A Capitol Heights, Maryland man tried, but could not save his elderly mother from an intense fire early Christmas Day.
Fannie Kirkland, 87, died in the fire at the two-story duplex in the 900 block of Booker Drive.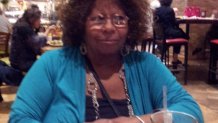 Firefighters got the first report of the fire at about 2:15 a.m. The fire seemed to have started on the first floor, and a working smoke detector alerted Kirkland's son, Peter, to the fire.
He tried to reach his mother, but the intense heat and smoke were too much for him. He went next door to Derek Frisby's home for help.
Local
Washington, D.C., Maryland and Virginia local news, events and information
"We got a grip of [Fannie's] hands and then they just slipped. There was no second chance. By that time, the smoke and fire was so intense there was nothing we could do," Frisby said, with tears streaming down his face. "She's not suffering [anymore]."
Fannie Kirkland had worked as a psychiatric nurse at Prince George's Medical Center and as a nurse in Prince George's County before retiring.
Firefighters will return to that neighborhood -- and to the Bowie neighborhood where an 83-year-old man died in a fire Christmas Eve -- to talk with neighbors about the fire and to make sure homes have working smoke detectors.