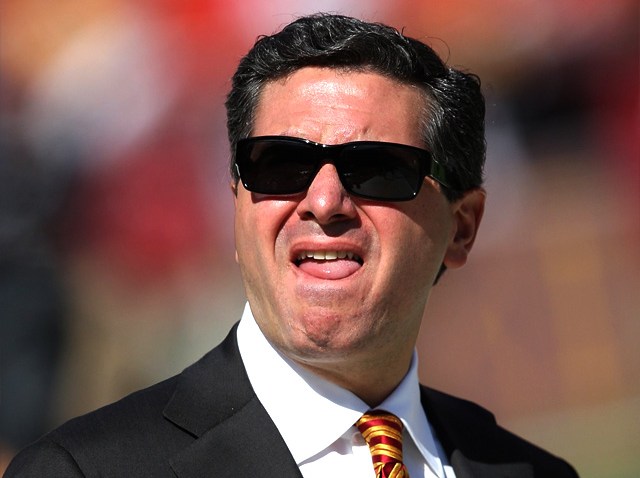 Who was really behind Dan Snyder's lawsuit against the Washington City Paper? Lawyers? The owner himself?
"All I did was support (Redskins Senior Vice President) Tony Wylie's decision," Snyder told his own radio station, ESPN 980, Friday afternoon in a live interview. "He wanted to do it. He made it very, very clear that you can't let this happen. It's not right."
Snyder filed a $2 million lawsuit Wednesday against the parent company of the City Paper, claiming that it has "engaged in an ongoing campaign" to "smear his business and personal reputation," has published more than 50 columns in which he "was the subject of derision, ridicule and/or vilification," and that the November cover story on him "featured an anti-Semitic depiction of Mr. Snyder with horns on his head, bushy eyebrows, and surrounded by dollar signs."
On Friday, Snyder defended his decision to sue, reiterating several times the phrase, "What's right is right and what's wrong is wrong."
Snyder said he never sued anyone in the media before this week, but he said he asked the City Paper for a retraction and an apology, but never received one. So the lawsuit, which claims that the article written by Dave McKenna contained "numerous outrageous, false and defamatory statements of and concerning" Snyder, was the next step.
"I hoped they would do a correction and apologize," Snyder said. "But they chose to continue with their lies. Enough is enough."
Snyder said he has never met McKenna, who has been with the City Paper for several decades.
"I don't know who he is," Snyder said. "I wouldn't recognize him if I was in the elevator with him. I don't wish to, either, at this point."
Snyder told the station that he can take media criticism, especially from his own station, which he said can "beat the snot out of me" when the Redskins lose. He also mentioned former Redskins linebacker LaVar Arrington, who has been very critical of the organization while hosting a radio show for rival 106.7 The Fan.
"I know LaVar Arrington beats the snot out of us when we lose, and then praises us sometimes when we win," he said.
But Snyder said the City Paper took things too far.
"When someone calls you a criminal and flat out lies and makes fun of your wife, who is battling breast cancer ... you're just dealing with someone who has crossed the line," he said.
And as for the drawing that accompanied the City Paper's November story, which the lawsuit claims to be "anti-Semitic," Snyder had thoughts on that, too. While talking with former Georgetown Coach John Thompson during the radio interview, he said, "You don't depict African-Americans certain ways, you don't depict Jews certain ways. What's right is right, what's wrong is wrong. And this is wrong."
The City Paper posted the following on its website about the drawing:
For the record: The story didn't mention Snyder's religion at all. And the illustration is meant to resemble the type of scribbling that teenagers everywhere have been using to deface photos for years. The image of Snyder doesn't look like an "anti-Semitic caricature" -- it looks like a devil.

But we at City Paper take accusations of anti-Semitism seriously -- in part because many of us are Jewish, including staffers who edited the story and designed the cover.
In another interview done later in the day with Arrington and Chad Dukes on 106.7 The Fan, Dukes asked Snyder about the Redskins name. The back-and-forth is below:
Dukes: It does come across as hypocritical when you say, "OK, you're making fun of Jews, but we can make fun and profit off a slanderous term for Native Americans." What do you say to that?

Snyder: Obviously you've not read some of the history of the Redskins and the name of the team and what it means and what the name Redskin means.

Dukes: I've seen a lot of lawsuits, though.

Snyder: You've seen a lot of lawsuits and a lot of victories from the standpoint of the Redskins overcoming those suits. I think what's most important is what the Redskins are all about, is the tradition of the Redskins, is fighting for Old D.C., victory, the terminology Redskin is not meant to be offensive whatsoever. To compare that is silly. I'm sure it makes for good copy here and there. You're talking about two separate things.

Dukes: You wouldn't name the team the Blackskins. Let's be honest. Because African-American players wouldn't play for you. And I think that a lot of people... American Indians around this country don't like that term. I know there's only 2 million of them left because we committed genocide of them years ago....
At that point Arrington cut off his radio partner to focus the conversation more on his own personal relationship with his former boss. The interview ended soon after.
Editor's Note: NBC Washington is the official broadcast station of the Washington Redskins. The Washington City Paper provides content to NBCWashington.com.