When D.C. leaders approved a plan to bring sports betting to the District, they said they wanted local small businesses to get in on the action. Now, at least one restaurant owner says his business is being shut out by special treatment.
"Do I think the playing field is fair? No, I think it's definitely not fair at this point," Tom Johnson told the News4 I-Team.
Johnson is the managing partner of Hill Restaurant Group, which owns Willie's Brew and Que in Southeast. He's considering filing a lawsuit against D.C.'s Office of Lottery and Charitable Games to challenge a two-block restricted betting zone that favors Nationals Park.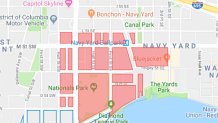 "I don't know how they did their blocks, but it makes no sense to us," Johnson said.
The standard definition of a city block is a rectangular area surrounded by streets.
You have to cross First Street, New Jersey Avenue and Third Street to get to his business, which he says makes the restaurant three blocks away from the ballpark.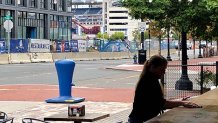 "You know D.C. politics; you never know how things are done," Johnson said. "I mean literally somebody had a lot of influence in the way they made the rules."
Local
Washington, D.C., Maryland and Virginia local news, events and information
The rules govern four exclusive sports betting zones that surround D.C.'s professional sports venues. Nats Park, Audi Field, Capital One Arena and the Entertainment and Sports Arena each can develop their own sports betting app to work while you're at a game and within the two blocks surrounding each location.
The citywide app won't work in those four areas, and small businesses located within those zones are not able to participate with a sports betting license. Their customers will only be able to use the big venue's app.
"And they'll make money off of my bar," Johnson said. "I don't get a share of the revenue stream."
He wanted to apply for a Class B license to have his own app and planned on joining Bet DC, a group of small bars and restaurants working together to split the high costs of developing a sports betting program.
"If you had the kiosks and the boards, it gives it that gambling feel, almost a small Vegas feel," Johnson said, adding that he thinks his customers would enjoy placing bets while watching games and perhaps stay longer, increasing food and drink sales.
"One of the benefits that was sold about sports betting was that it was going to benefit the small businesses," DC Councilmember Elissa Silverman told the I-Team.
Silverman was one of five council members who voted against the sports betting legislation which created those two-block zones. The legislation did not define how two blocks would be measured or identify which small businesses would be shut out.
"It's unfair. It's an unfair playing field and it means that the big guys are going to benefit the most," she said.
A closer examination of the zone around Nats Park shows the western boundary extends about one-tenth of a mile from the ballpark. Willie's is three-tenths of a mile on the eastern side, and the boundary extends for another block, ending at Fourth Street SE.
"It's crazy," Johnson said. "You'd think they would do it by feet or a circle or something that's evenly spaced."
In a letter to DC Lottery's executive director prior to the boundaries being drawn, the Nats evan suggested their two-block zone should stop at Third Street SE. But the map the District drew does not count Third Street as a street, possibly because it also serves as a gated entrance to the Department of Transportation.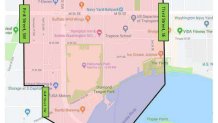 Businesses right across the street from Willie's, in the same block, are not in the exclusive zone.
"I'll pursue talking to the CFO about why it was drawn in that way," said Silverman. "But I think everything with the sports betting and lottery contract needs a second look at this point."
Johnson had an attorney send a letter asking that the DC Lottery reconsider the boundaries. The I-Team asked about his appeal letter, but a DC Lottery spokesperson said the boundaries are final.
"I think, if they don't reconsider, I think it's going to be a problem for them," Johnson said.
He's considering filing a lawsuit, which could further delay a sports betting program that's already fallen short of its initial schedule. DC Lottery hoped to have sports betting up and running during the current NFL season. The District-wide app is now slated to be ready in January.
Reported by Jodie Fleischer, produced by Rick Yarborough, and shot and edited by Jeff Piper.