Travelers at Dulles International Airport will soon be able to take naps or even stay overnight inside... boxes.
Boston-based startup Sleepbox is opening a nap lounge consisting of 16 sound-insulated rooms in Terminal A at Dulles in Northern Virginia.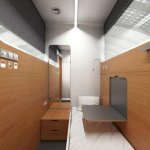 Sleepbox says its app allows customers to book the room, unlock it and control all of its features for an "on-demand hospitality experience."
"Finally, travelers encountering delays and long layovers will now have a private oasis in the middle of the rush," the company said in a release.
The lounge is set to open this month and Dulles will be the first airport to have Sleepboxes.
Photos of the tiny rooms show a small bed with a mirror and nightstand beside it.
Standard room rates are $40 for the first hour and $30 per additional hour. Rates are capped at $150 for 12-hour periods. Compact room rates are $30 for the first hour, $20 per additional hour and $120 for 12-hour periods.
The lounge is staffed 24/7 with a concierge and maintenance team.