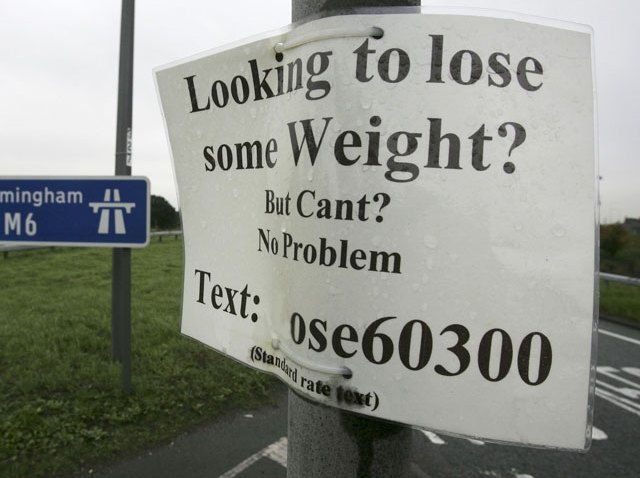 "When I see signs, I get really upset.''

That's what Juli Verrier of Northern Virginia told the Post, to explain why her weekend routine has her driving around ripping out all those godawful road signs that litter every NoVa highway and/or byway.

Putting up signs on roadsides or medians is actually illegal in Virginia. But as anyone who's driven from strip mall to strip mall can tell you, it's not exactly being enforced with an iron glove.

The catch, the article notes, is that it's a state law, and that the medians and roadsides are actually state property, and should be enforced by the Virginia Department of Transportation.

But VDOT is broke. (And some would argue, broken.)

It simply doesn't have money to send people around to rip out these signs, which pop up like weeds.

With the state not doing its job, that's where Ms. Verrier has stepped in.
[S]he puts on a fluorescent-yellow highway safety vest with reflective strips. She packs scissors, and sometimes a garden rake, to reach signs on poles.

Once behind the wheel of her Acura, she starts searching for offending signs -- and right there, not even out of the driveway, she sees: "Pagamos $100 porcualquiercarroviejo" (Will pay $100 for a used car).

Leaving the car idling in the driveway, she marches to the sign. Down it goes.

Then she climbs back in the car and turns onto Little River Turnpike. She travels barely a block before pulling off. As cars whiz by, she strolls along the median to uproot a batch of signs for an apartment complex. She often leaves the trunk up for the sake of convenience, but as the haul begins to build, she can't shut it.

Sometimes she wears her seat belt; sometimes, caught up in the hunt, she does not. After several herky-jerky loops in and out of traffic, a motorist behind her lays on the horn.

"Oops, I'm going to get rammed," she says calmly. "I burned out the starter in my car because I was stopping and starting so much."
The paper notes that she's selective with her pickings. If it's something she approves of, like ZipCar, she keeps it up. If it's something like gutter cleaning, down it goes.

Why does she do it? "They're tacky. Just tacky," she told the Post. "It makes me feel like the people who don't care are tearing down the community."

So she'll get back, one sign at a time.
Copyright FREEL - NBC Local Media