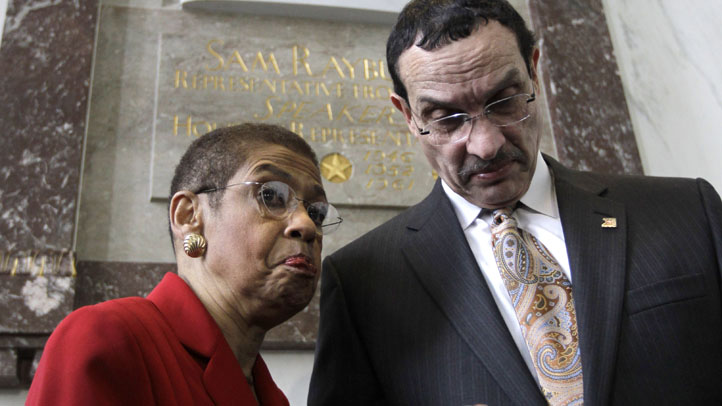 This happened yesterday: D.C. Mayor Vince Gray crashed a press conference hosted by the top Democrat in the U.S. Senate and Rep. Eleanor Holmes Norton unloaded on President Barack Obama.
What is going on?
Gray and Norton are growing impatient with fellow Democrats as the effects of the shutdown begin to strain the District.
If the shutdown continues into next week, the District will have exhausted the rainy day fund it has been using to pay its bills. Many services will be cut, healthcare programs could stall, charter schools will go unfunded, trash collection will be halved, parking enforcement will disappear and dozens of other government functions will halt.
The solution: Congress and Obama agree to allow the District to spend its own money.
Republicans in the House of Representatives have passed a resolution to keep the District funded. But in the Senate, Democrats run the show and they have yet to act. Obama isn't supporting the resolution either.
What is going on?
Senate Democrats and Obama are not interested in the Republican approach of dealing with the shutdown in a piecemeal manner.
So the District is caught in the middle.
At his press conference yesterday, Senate majority leader Harry Reid (D) said to Gray, "I'm on your side. Don't screw it up, OK. I'm on your side."
Hogwash. Reid has never lifted a finger for the District.
How could Reid be on Gray's side? Gray has made his position clear: let the District spend its own money. If Reid is on Gray's side, then bring the House resolution to a vote in the Senate.
Reid is Obama's side. And Obama has never lifted a finger for the District either.
Which brings us to a White House meeting attended by Norton and 200 of her House colleagues.
When Norton got her turn to talk, she pressed Obama to support the House resolution to fund the District. An attendee described her remarks as "strident" and "self-absorbed."
Allow me to translate: add President Obama to the list of people who have been on the receiving end of a Norton tirade.
And add Gray and Norton to my list of shutdown heroes.
They spoke truth to power, irrespective of party. They stood up for the people they were elected to represent.
Too few politicians have done that during the shutdown mess.
Chuck Thies is a political, communications and advocacy consultant. From 1998 to 2010 his professional portfolio included District of Columbia politics. Chuck has worked on national projects and internationally in Europe, Africa, the Middle East , China and Mexico. If you are daring, follow him on twitter: @ChuckThies.