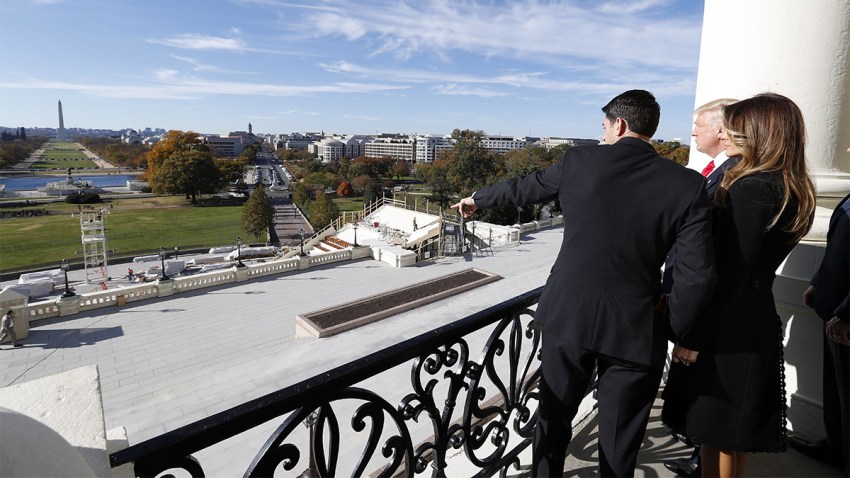 We are not going to rehash last week's presidential election.
You have seen and heard the results. You're reading about the president-elect's appointments.
Looking ahead is what we are doing — the aftershocks, you might call them.
The sound you hear in the background is the knife-sharpening recriminations bubbling up in the losing Democratic Party. Who will lead the Democrats in the midst of second-guessing and generational change? Should the party go more left or more centrist, really reaching out to disaffected middle-of-the-road white voters?
The Republicans are in a power-shifting tizzy among themselves, amid speculation over who's in and who's out and what the new president will do or more importantly allow to be done.
Given the uproar, we have some simple advice. If you are so inclined, get your Airbnb account in order and straighten up the extra room. There is going to be an onslaught of events in January.
■ Inauguration week. Whether you voted Republican or Democratic, or sat it out in a huff, there's money to be made from folks arriving for the swearing-in ceremony. If you don't cotton to the winners, there will be plenty of protesters looking for a convenient and inexpensive stay.
The day after the inauguration, there's also the aspiration-imbued Women's March on Washington (initially dubbed the Million Women March) set for Jan. 21. A large crowd is expected, but just like the Million Man March in 1995, prospects for a true million aren't likely. However, attendance could be boosted by the extensive social media coverage we are already seeing, and any unusually large crowd will get attention.
You need to know that planning for the Jan. 20 official inauguration and its inaugural balls is complicated by many things, so stay tuned for what will be happening.
Which brings us to the third event that week.
After more than 40 years of large and smaller demonstrations, we think the March for Life on Jan. 27 could be one of the largest ever.
The March for Life is a professional nonprofit organization that has drawn hundreds of thousands of marchers, who have gathered each year since the 1973 Roe v. Wade decision by the U.S. Supreme Court legalizing abortion.
The size of the crowd has varied a lot depending on the weather and political climate. Given the Republican victories in Congress and the White House, it would seem the 2017 attendance could be significant.
The president-elect signaled in his interview with "60 Minutes" that he hopes — through court appointments — to send abortion-choice back for states to decide. The GOP's 2016 platform had one of the strongest anti-abortion planks ever.
To sum up, the inauguration, the protests and the March for Life may lead some of you to just get out of town for the week, either for political or convenience reasons. For all who stay, buckle up.
■ Metro and the march. The marchforlife.org site has a special section on how to use Metro to and from the march. Its six tips include a reminder to "walk left, stand right" when using the escalators. Whatever your politics, you have to appreciate that these tips are being passed along to the thousands of out-of-town folks expected.
■ The lightning round:
Cheaper eats. Fairfax voters rejected a 4 percent tax on prepared food and beverages that could have raised as much as $100 million, most of which would have been used for pressing education needs. The vote was 48 percent in favor to 52 percent opposed. Sandra Bulova, chairman of the Fairfax County Board of Supervisors, acknowledged what she called an "uphill" battle for the tax, even though non-Fairfax residents would have paid more than a third of it. She was quoted in the Fairfax County Times predicting a protracted battle over the school budget in coming months to make up for the lost funds.
Time's up. For the first time, Montgomery County voters approved term limits on elected leaders. Rejected in 2000 and 2004, this success means several council members' political careers are over, although one or two may run for county executive since incumbent Isiah Leggett had already announced his intention to retire.
More government. Voters in growing Prince George's County voted to add two at-large members to their nine-member council, which currently is divided into wards. The vote is seen as a way of getting council members to focus on county-wide issues, not just wards. Others see it as a way for current council members to get around the two-term limit for a seat in the county.
Tom Sherwood, a Southwest resident, is a political reporter for News 4.