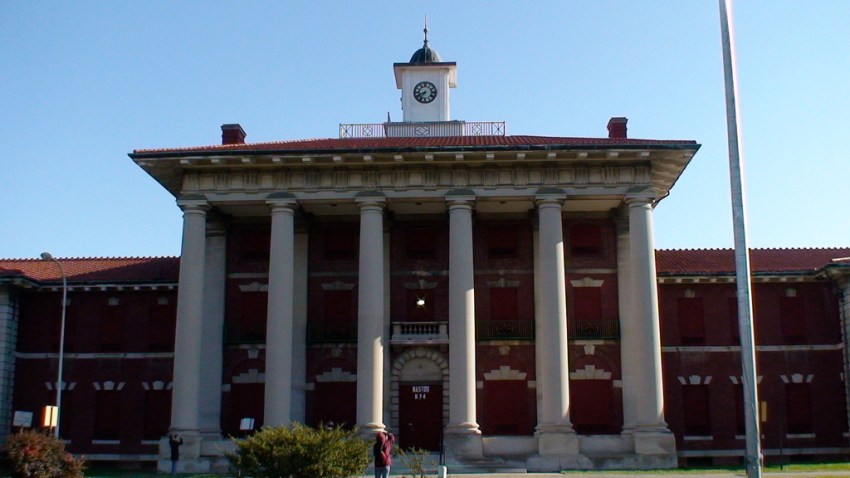 Back in the late 1800s, St. Elizabeths Hospital was on the cutting edge of treatment for the insane.

Its campus-like Gothic Revival buildings offered space and light in a natural setting to ease troubled minds. The hospital provided enlightened treatment of the mentally ill, even if some of those treatments would make practitioners of modern-day medicine cringe.

Now, after a long hiatus of neglect and ruin, the campus is being revived as hyper-secure headquarters for the Department of Homeland Security. Imposing steel fences, bomb-proof glass and all sorts of security apparatus are sprouting all over.

What will it all cost? The current price tag is $4 billion — billion with a "b" — to house the many agencies of Homeland Security.

The U.S. Coast Guard headquarters building, the first to move onto the campus, officially opens next week. The building is a multi-tiered structure cut into a hillside. It offers the latest in both security and environmental touches.

And it's nearing $500 million in costs.

The Notebook made two trips to St. Elizabeths in the past week. On Monday we toured the new Coast Guard building with D.C. Delegate Eleanor Holmes Norton.

On Saturday, we had been part of a tour sponsored by the DC Preservation League. After showing our identification cards to the guards, we were allowed to walk throughout the old grounds, even visiting a cemetery with gravestones dating to the Civil War.

We walked past columned buildings with "Fallout Shelter" signs rusting in the sun. We walked up to high-ceilinged screened porches that once offered fresh air to patients. And we peered into doorways through which thousands of patients and attendants once walked.

The sense of history emanates from the ground and from every corner you turn. Something remarkable happened here in the annals of medicine and cures.

But that St. Elizabeths is long gone. And you won't get much chance to see or visit the new one. In place of the historic St. Elizabeths will be the burgeoning bureaucracy born out of the 9/11 fears. Congress combined 22 different agencies — Emergency Management, Secret Service, Coast Guard, Immigration and Customs, Transportation Security, et cetera – under the umbrella of Homeland Security.

It will be years and maybe decades before we know whether this bureaucratic reshuffling was a good idea. There already have been some calls to trim back the consolidation, with proponents saying it was done too quickly out of fear.

Congress has cooled to the costs of creating the Homeland Security campus. Some funds have been cut back and others indefinitely delayed.

But the campus is a true beehive of activity. Construction vehicles rumble to and fro.

The plan is that construction will last into 2021 and another 10,000 federal workers will join the 4,000 from the Coast Guard on site.

Bureaucracies, once underway, are hard to rein in or stop. The cost is ticking up every day. The only sure thing is that there is a level of site-specific construction not seen since the Pentagon was erected in the 1940s. Whether it makes us safer — or just makes us feel safer — we'll have to wait and see.

■ Environmental success. While it's unclear whether America's embrace of astounding security changes will make us better, there's no question the Homeland Security construction is more enlightened than ever.

The Coast Guard headquarters has won recognition for its control of rainwater runoff. The tiered roofs are filled with 550,000 square feet of green plants, grasses and trees that offer natural insulation and soften the impact of the imposing brick, steel and stone structure. The contractors also are building roadways with proper storm drains and a two-acre pond to collect that storm water. About 86 percent of the construction debris — 5 million pounds — is being recycled.

■ Local economic benefits? Delegate Norton, who led Monday's tour, insists that the security bureaucracy will embrace the struggling neighborhoods outside its doors and walls.

The Notebook worries because a direct access road off of I-295 into the secure complex means employees will be able to drive onto and off the property without ever visiting the neighborhoods. Norton said the Coast Guard's building has a limited number of parking spaces and food outlets, specifically to force workers into the neighborhood, where the city is rushing to build food and retail opportunities.

Norton also said local citizens will be invited to job fairs.

But as with the future of Homeland Security itself, citizens who live in Southeast will believe in job training, jobs and retail growth when they see them.