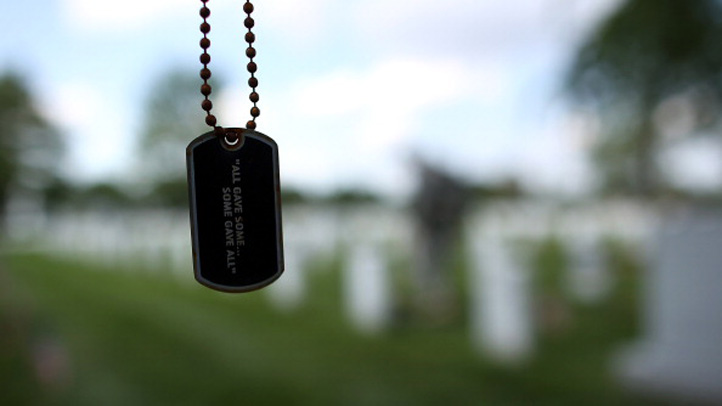 Memorial Day, coming up this weekend, is for remembering those who have died fighting for our country. Veterans Day in November honors all who have served.
Your Notebook was a reluctant Naval reservist who in the late 1960s served his active duty here at the Washington Navy Yard. It's how we first fell in love with local Washington, if not the strict rules of military service.
But the Notebook's extended family has a far more distinguished military record.
It began in World War II when the Notebook's uncle, 2nd Lt. Leslie Peyton Turner, served as a bombardier over France and Germany. Turner's plane was part of the 783rd Bomb Squadron, 465th Bomb Group, 15th Army Air Force. It was shot down over Germany. Peyton was one of seven crewmen who died.
After the plane was shot down, a German priest gathered their remains and buried them properly. Peyton's father, upon hearing the news, suffered a heart attack and died months later.
The little town of Haselbach, Germany, is hosting a memorial this summer for the crew members. Your Notebook's brother -- retired Army officer Ed Sherwood, who lives outside of Atlanta and did the journeyman work to chronicle this family history -- will represent the family at this summer's memorial. Peyton's memory lives on in the person of Peyton Sherwood, your Notebook's son, who proudly carries the name.
But this is only one small part of one family's brush with war and service.
"Many don't know or remember the war's cost in human lives," writes Ed Sherwood in an article about this one bomber crew. "The [Haselbach] memorial and the crew's legacy to their families and new generations of Americans and Germans embody the very meaning of Memorial Day — lives given that we may know freedom from tyranny. We have a duty to remember them. Their story lives on."
Now, proceed with your weekend barbecues, baseball games and shopping. But remember for a moment that our freedoms were purchased. And the price was -- and always will be -- steep.
■ John Wilson remembered. A few former staffers and friends of the late D.C. Council chairman gathered Sunday at the Lincoln Memorial Cemetery in Prince George's County, just over the District line.
They stood around Wilson's grave marker in the rain, telling heartwarming and funny stories about the civil rights worker and longtime Ward 2 council member who took his own life 20 years ago Sunday. Many thought Wilson would have become mayor in 1994 and rewritten the city's future. He suffered from depression, but he didn't suffer fools easily.
Thanks to city activist Marie Drissel for prompting the little gathering Sunday.
■ And then there were two(+). Next year's mayor's race is picking up a lot of steam this year.
Ward 6 D.C. Council member Tommy Wells this past weekend joined Ward 4's Muriel Bowser in the mayoral boxing ring for the April 1, 2014, Democratic primary.
Look for Ward 2's Jack Evans to jump into the race in a couple of weeks.
Former City Administrator Robert Bobb also is asking around — privately, so far — about mounting a possible campaign.
At-large Council member David Catania continues to eye a possible independent run in the November election.
Mayor Vincent Gray remains intent on running, barring some unpleasant (for Gray) action from U.S. Attorney Ronald Machen.
Though the official election is not until next year, candidates must begin collecting signatures in December to qualify in January for the spring ballot.
■ The Wells rollout. Wells took to the rainy city streets for his announcement Saturday. He arrived aboard a regularly scheduled bus for his rally at the intersection of H Street and Benning Road NE.
It was a good way for Wells to emphasize his transportation credentials with a common flair. Wells has been one of the council's principal proponents of bike lanes and public transit.
But like most local candidates, Wells began his speech with an attack on the city's ethics problems, saying there is a "crisis of ethics" in city politics.
Wells also addressed other matters, pledging to cut in half juvenile crime within two years and to provide high-performing elementary schools throughout the city that citizens "can walk to."
Wells was standing on one corner of the revitalized H Street shopping and entertainment district. He said he wanted to make sure the whole city is "affordable, livable and walkable." The word "affordable" was added only recently to the Wells mantra. It addresses the fears that gentrification is causing in some African-American and Latino neighborhoods.
Wells is white. There has been no white mayor of Washington since home rule began in 1974. But demographics and political issues are changing.
Your Notebook noted only one gaffe by Wells. He failed to introduce his wife, Barbara, from the stage. She stood quietly in the rain holding an umbrella. When the Notebook pointed this out, a chagrined Wells told us that his speech notes had gotten wet and he had mistakenly skipped over her.
Being part of the media, we had a nasty follow-up question. Did he need a note to remind him to introduce his wife? Having served our duty as the grating press, we let him move on to greet friendlier people.
Tom Sherwood, a Southwest resident, is a political reporter for News 4.