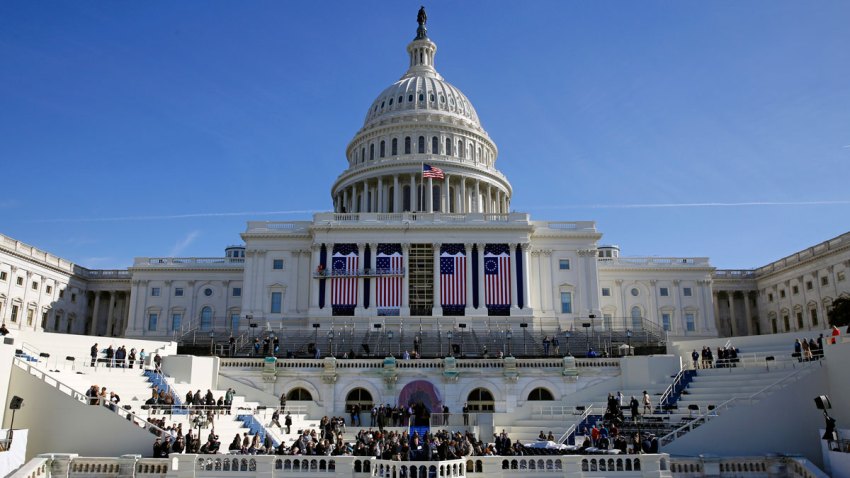 No one really knows how many people are coming to Washington to celebrate Inauguration Day on Friday or to participate in assorted protests.
But there will be a lot.
The security clampdown of the capital of the free world is ratcheting up quickly. At the beginning of the week, the heavily fenced-in National Mall looked like an encampment.
What are authorities most worried about?
There have been no "specific, credible" terrorism threats. But it's routine now to plan for some type of organized terrorism — domestic or foreign. That's taken for granted.
There also now-routine worries about "the lone wolf." That's a single individual, either domestic or foreign, who either purposefully or insanely decides to take action. This type of person is much harder to detect. Metropolitan Police Department Chief Peter Newsham told us that law enforcement is scouring social media for hints of any such persons. Domestic "militia extremists" who oppose the federal government and have suggested or engaged in violence are on the watch lists, too.
With all of this preparation, it's important that law enforcement documents note the right to peaceably gather and protest. You may agree or disagree with protesters, but they have a right to assemble.
The inauguration of Donald J. Trump has yet another level for potential violence — a clash between protesters and Trump's most aggressive defenders and supporters.
Nearly two dozen protest groups were seeking sites to stage their events. A handful sought permits to celebrate the new president.
Law enforcement officials are aware some protesters publicly have said they illegally intend to shut down the inaugural or parade or create chaos. Other protesters intend to have such numbers that they easily distract and overwhelm the official event.
The unknown is, What response will come from those ardent Trump supporters who will be offended by the protesters?
There is a concern among law enforcement that some Trump supporters could clash with protesters. The worst fear is a vigilante-like response, as well as fistfights or other incidents.
We saw some of this at Trump political rallies during the campaign. But none of those campaign events match the hundreds of thousands who will be on the streets of Washington.
What will they do? What will they do? That's the added worry this week.
■ Police advice. The advice is simple for anyone who just wants to attend the inaugural as a historic moment in our history: Pay attention to your surroundings and be alert to the mood of the crowd. Be aware of places where you can withdraw from the crowds.
Sad to say, that is advice you might consider in any public place, not just Inauguration Day. The important point is for Americans to live their lives as openly as possible and not cower in fear or withdraw from public events.
■ If you don't go: NBC4 will have full coverage of the inaugural on Friday, beginning with our early shows before NBC network coverage takes over. Your Notebook will join anchors Jim Vance and Doreen Gentzler to cover the inaugural parade in the afternoon.
You may have heard that Charlie Brotman will join us, too. Since 1957, Brotman had officially announced parade participants for the new president as they passed the presidential reviewing stand. The 89-year-old Brotman was raring to go one more time until the Trump inaugural committee dumped him. NBC4 invited him to join us, and he accepted. Tune in.
NBC4 also is doing something different on the web and in our app: We are going to "broadcast" all morning live online from a Capitol Hill coffeehouse. Anchors Wendy Rieger and David Culver will host a broad series of guests and invite your questions as they talk about our city, the people who live here and how local Washington fits into this big day. Download the NBC4 app to participate.
Tom Sherwood, a Southwest resident, is a political reporter for News 4.