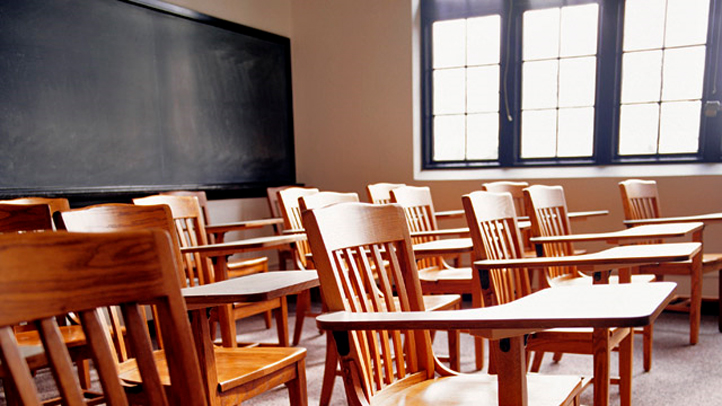 If there were any doubt that schools would be a significant issue in this year's mayor's race, Monday cleared that up.
Using opening day of the new school year as a backdrop, independent mayoral candidate David Catania threw more cold water on the plan to redraw school boundaries for the first time in 40 years.
He said that, despite hard work by a lot of people, he thinks the boundary change will send too many students to lower-performing schools. Even if you like the school boundary changes — and many don't — Catania said he didn't think the school bureaucracy could handle the change in time for the school year that starts just 12 months from now.
"For these reasons, among others, I intend to take action to delay implementation of the [boundary changes] until at least school year 2016-2017," the chair of the council's Education Committee said in his announcement. That's two years from now.
As of Monday night, Democratic mayoral nominee Muriel Bowser had not weighed in on the final boundary plan that Mayor Vincent Gray announced Aug. 21.
Last spring, Bowser initially said the Gray proposal, still under development, contained some "very good ideas." Some parents and others reacted badly to that proposal, disliking the cluster plans and lotteries included. A few days later Bowser clarified that she would support only "neighborhood school assignment."
As Catania has sought to make schools a focus of his campaign, Bowser also has changed positions on whether she would commit to retaining Chancellor Kaya Henderson. The Ward 4 council member initially said she would not discuss potential appointees until winning the mayor's race. But in June, Bowser told supporters she would keep Henderson.
Catania has praised Henderson but has kept to his position that he won't discuss jobs unless and until the people give him the job as mayor. Catania reiterated that last week when he was asked about another popular official, Metropolitan Police Department Chief Cathy Lanier.
But Catania has made school reform his central issue. Although only a fraction of voters have children in the public or charter schools, they tend to be very active in their communities.
In a move that his critics call overtly political, Catania has spent the past 18 months visiting 144 of the city's nearly 200 schools. Catania meets with students, parents and school officials. At the very least, it provides him with a heck of a contact list. Although Catania seems to be outflanking Bowser on education, she's not standing still. Her website says, "Improving our school system remains the single most important thing we have to do as a city." She says there is a "crisis" in the middle schools.
While Catania passed legislation directing $80 million to schools with more at-risk students — a break in the long-used per pupil formula that treated every student the same — Bowser backed free Metro rides to eliminate one reason children don't get to school.
Independent Carol Schwartz issued a statement praising the thrust of the latest school boundary plan while criticizing parts of it. Neither she nor Bowser has joined Catania's call for delay.
However school reform shakes out in this campaign, you can expect to hear a great deal about it — and nothing's out of bounds. We've come a long way from the control board era and its stumbling effort at school repair in the 1990s. Mayors Tony Williams and Adrian Fenty really got the school reform movement going, and Mayor Gray has embraced it, too.
The next mayor will have no choice. It's just a question of how aggressive that mayor will be.
■ Looking up, up, up. Although official numbers will come later, Chancellor Henderson was touting a great first day of school on Monday.
"We are going big this year," Henderson said in stats-filled statement that said initial enrollment of about 47,000 students is the highest in five years. Charter schools account for about 38,000 other students.
Henderson noted the school system has instituted a host of classroom-level improvements. In part, she said, the schools have hired an additional 300 teachers, 29 new counselors, 24 new librarians, 13 social workers and six new coaches. (We're sure there's a partridge in a pear tree somewhere in there, too.)


---
Tom Sherwood, a Southwest resident, is a political reporter for News 4.