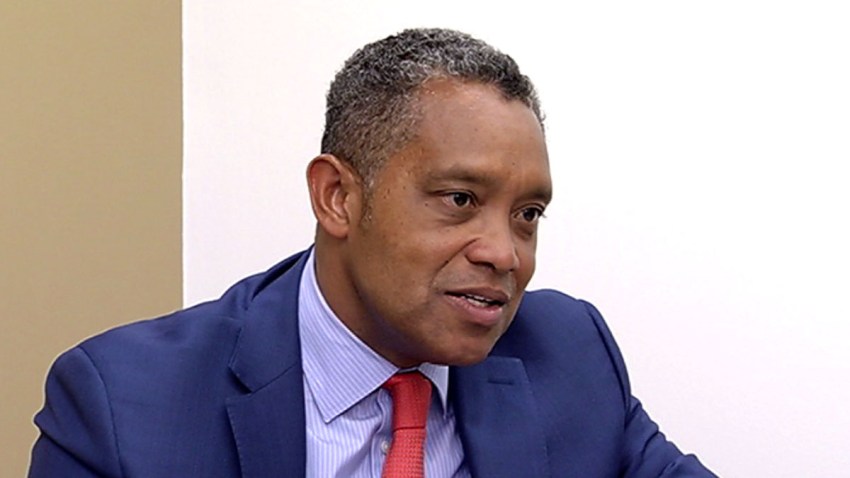 Is he or isn't he?
Will he or won't he?
Should he or ...
Oh, let's stop. You all get the picture.
D.C. Attorney General Karl Racine sounds like someone revved up to run for mayor. But will he get in? And, realistically, could he win?
Last Friday on the WAMU Politics Hour, Racine came within a toe of stepping up to the start line for the 2018 race against incumbent Mayor Muriel Bowser: "I am having conversations with folks around town to get a sense as to what it would take to run for another position. I'm nowhere near making a decision on that. Period."
But Racine was fully engaged talking about his public service and any future campaign. "In regards to that decision," he told your Notebook and WAMU's Kojo Nnamdi, "I sure hope that the callers, the audience out there can hear my passion."
There's not "another position" Racine would seek other than mayor. He's not going to run for the council and certainly not Del. Eleanor Holmes Norton's House seat. But the election map and math that he would need to defeat Bowser could be daunting.
Still, on Friday he was much farther down the campaign trail than just last Christmas. Back then he told the Politics Hour he would make a decision this summer whether to run for re-election "or any other office, or simply return to the private sector."
During last week's Politics Hour, Racine methodically but aggressively walked through issues such as affordable housing and code enforcement, drug addiction policies, consumer and regulatory affairs and campaign ethics.
"I love being attorney general of the District of Columbia," Racine said. "We have a tremendously talented team, focused on doing the public interest, using the law to actually uplift the people's lives, especially our most vulnerable citizens, so that's where my focus is, Tom."
Maybe all true, but it was immediately after that sentence that Racine disclosed he is having "conversations with folks around town" on a possible run for that "other" office.
So how realistic is a run? There are lots of speed bumps. "What has the mayor done that you would throw her out of office?" one Bowser insider posed to The Notebook.
The insider checked off a lot of questions and campaign issues: Are enough of the mayor's 2014 backers so dissatisfied as to walk away? Is there any sign of broad dissatisfaction in a booming city? Crime may be a serious issue in some areas, but overall is it a significant factor? The city has balanced budgets and a growing economy, and schools and services are improving. Why change horses, the adviser asked. Bowser likes the job and can be a fierce campaigner. Could Racine match that?
There are certainly political insiders who oppose Bowser, including those aligned with Vincent Gray, former mayor and current Ward 7 D.C. Council member. But while there are complaints against Bowser, are there the votes to defeat her?
Racine notes that Bowser won in a year where Gray was ahead until The Washington Post strongly backed her and U.S. Attorney Ronald Machen's scandal case broke a month before the primary. More recently, the Washington Post editorial writers called Bowser "feckless" for her handling of the paid family leave law. Feckless, in case you don't know, means without character.
Most political observers say the Democratic primary winner has to carry wards 1, 2, 3 and 6. And that doesn't even count Ward 4, Bowser's home ward. As the incumbent, Mayor Bowser can wait until later this year to begin her re-election campaign. She already has said she will run.
Meanwhile, Gray, who would like to be mayor again, always waits late to start his campaigns. He can keep his Ward 7 seat while running for mayor. But he faces a major hurdle. Although he was not charged in that 2010 campaign scandal that sunk his re-election chances in 2014, many believe Gray would have a hard time recapturing enough voters (white and black) who turned against him back then. Some of them voted for Bowser even though they thought Gray had been a good mayor overall.
And what of Racine? He'd have to get in sooner rather than later.
He would have to raise money from businesses, lawyers and groups reluctant to oppose a sitting mayor except under severe circumstances. And unlike his race for attorney general, he essentially won't fund it himself. He'd have to build a campaign organization, get better on the stump than his lawyerly persona allows now, and prepare to go all out seven days a week. Racine has privately said he's prepared for all that.
"I'd bet that Karl is testing the waters [now] to gauge his chances of running and winning," the Bowser supporter said.
Racine likes being attorney general — the public policy initiatives, the national recognition on issues like immigration and consumer affairs — but if he runs and loses for mayor, he'd be out of elective politics.
One final calculation: If Racine were to get in, would that encourage or discourage Gray's entry? Would they split the vote enough to allow Bowser to win? In this scenario, Bowser is the incumbent with the most steady base and ability to build it.
Given all this, Racine has a clear shot if he simply runs for re-election as attorney general. (He was supported in his first race by Bowser herself.)
Let's go back to that December discussion with Racine on the Politics Hour.
"I'm just two years into this [attorney general] job. I'm not a career politician, so I don't really think about what's the next office," Racine said then. "That's not my thinking. My thinking is really focused on how to build a strong, independent attorney general office. Nonetheless, you can be assured that I will be making important decisions related to whether to run again in the next six months, and you'll be the first to know."
And to that last comment on the radio, you could hear your Notebook mutter, "I doubt it."
Tom Sherwood, a Southwest resident, is a political reporter for News 4.