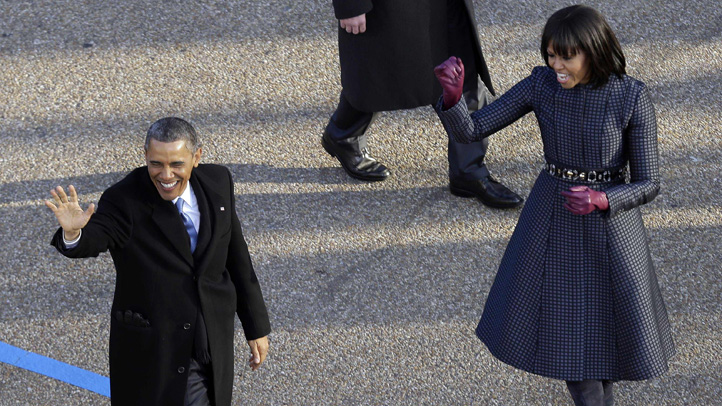 Monday's parade up Pennsylvania Avenue was quite grand from our NBC4 perch on the sixth-floor balcony of the Newseum.

In his speech, President Barack Obama certainly had just laid out a grand political agenda. Like it or not, it was sweeping in its historic call to action on climate change, gay rights, tax revision and immigration, among other things.

The president's parade of issues thrilled many Democrats who believe he was too timid in the first term. And it will engage the country and Congress in fierce debate. We could be seeing a 1960s-like clash of political wills.

But with no disrespect for either our military or first responders, maybe we also should envision a different kind of parade for this quadrennial, peaceful change of power.

First, maybe we shouldn't even have the parade. Maybe it's a remnant of bygone days.

There is the extraordinary expense — financial and psychological — of turning America's Main Street into an armed camp where democracy is suspended for several days.

It's not just the 8-foot-high steel fencing, nor the checkpoints, the cameras on every corner, nor the uncountable number of police cars screaming through the streets.

Behind the scenes, the U.S. Secret Service does a security check and stakeout of every private office, rooftop or balcony overlooking the parade route.

Protest groups are "assigned" demonstration areas, and required to pay fees and adhere to strict assembly instructions.

The Westboro Baptist Church — to many a notorious organization for its picketing of military funerals, denunciation of gays and so on — signed up for 25 demonstrators on John Marshall Park near 4th Street and Pennsylvania Avenue. The application said its goal was "to remind the people that there is a God and a day of judgment."

Separately, the Answer Coalition — a group with a reputation for serious protests — signed up to bring "thousands" of protesters to 14th and Pennsylvania to denounce war, racism and lack of jobs.

Yes, it's all very orderly, but it flies in the face of what protests are meant to do — protest. Democracy is not neat, but in a secure zone it seems everyone is just playing along.

This being the week of the Martin Luther King Jr. holiday, it makes you wonder what success would have been achieved if civil rights workers had acceded to police demands not to march here or there, or to pay to get detailed permits first.

■ The parade itself. The president is commander in chief of the nation. It is the president's (and Congress's) most somber duty to commit American lives to war.

Yet, the inaugural parade's emphasis on military might — the five branches of service headline the core of the parade — can feel more like an Armed Forces Day parade rather than a celebration of our democracy. And yes, we know our military helps ensure our democracy.

We grew up celebrating Armed Forces Day. But away from military bases, Armed Forces Day (the third Saturday of May) just doesn't get much of the nation's attention, certainly not like it should. The Notebook also grew up with and loves military pomp and circumstance as much as anyone.

But why not a parade that showcases the social services, arts and industries, and sciences along with our military services?

We could see entrants heralding the Americans with Disabilities Act and efforts to strengthen that groundbreaking legislation.

We could see entrants on the front lines of the massive rebuilding of our infrastructure (assuming the country gets serious about that).

Why not highlight nurses and educate America on the serious shortage of them that this country faces?

The idea is not to politicize the parade, but to make it more inclusive of the volunteers, organizations and varied aspirations that make up our whole nation. A number of nonmilitary groups were in the parade, but a casual viewer might not realize it, given the prominence of the military's groups.

As first lady Michelle Obama said on Saturday at one event, the inaugural "is about celebrating who we are."

Let's hope we are not a fearful people, ceding liberty for a sense of security, or highlighting our strength at the expense of our heart as a nation.

■ The parade route. We noted in our NBC4 commentary that there was something new about the parade on Pennsylvania Avenue.

Bike lanes! They weren't there four years ago.

For the parade, public works employees had stripped the street of traffic light poles, safety barriers and all those traffic signs you normally see. But one thing that wasn't removed is the pavement striping of bike lanes.

We doubt that the first couple noticed as they walked, but bike lanes down the middle of America's Main Street are one indication that this city takes bicycling seriously.

Kudos to former Mayor Adrian Fenty and then-D.C. Department of Transportation Director Gabe Klein for first doing it, and to Mayor Vincent Gray and current Director Terry Bellamy for improving them.

■ Beyond the parade. As core parts of the city were shut down for the parade, predictable traffic jams sprang up on every street around or near the parade area and Capitol Hill.

Yes, people are warned not to drive in the area. Yes, there are big roadside signs, their messages flashing. But why aren't there patrol officers or traffic control aides directing the areas adjacent to the shutdown sections?

Traffic jams are dangerous. Frustrated drivers resort to all sorts of evasive maneuvers, endangering pedestrians, cyclists and themselves. And let's not forget the hapless ambulance that finds every lane in every direction blocked.

In the Metro system on days like this, there are extra employees on hand at every station offering advice and guidance. Would it hurt to have a few traffic folks easing the jam everyone knew was coming?