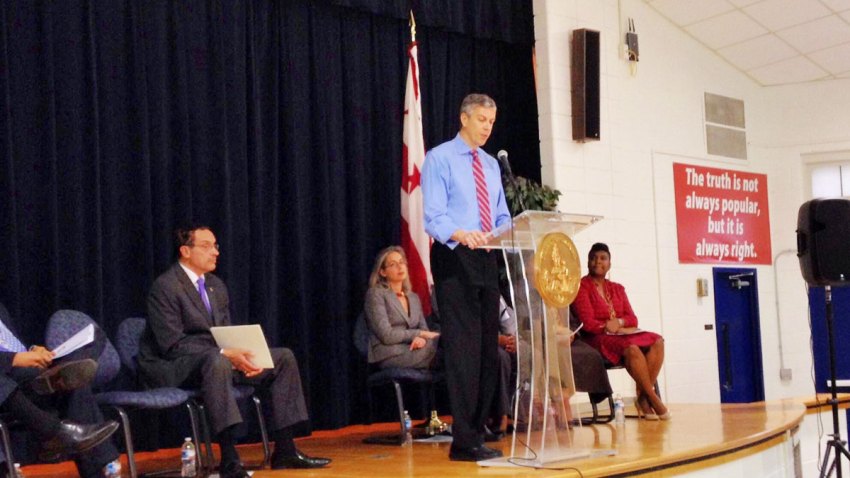 U.S. Education Secretary Arne Duncan was blunt.
He recalled the fears in 2010 that school reform was dead with the defeat of then-Mayor Adrian Fenty and the abrupt resignation of Chancellor Michelle Rhee.
"I remember when they came in," Duncan said of Mayor Vincent Gray and Rhee's successor Kaya Henderson. "So many of what I call 'Chicken Little pundits' talked about how reform was dead, how things would stop moving, how things looked so dire in D.C., and in fact the exact opposite has happened."
Duncan was on hand in a southeast Washington elementary school to announce a rather startling statistic: The D.C. public school system led the 50 states in improvement for math and reading test scores. These weren't locally controlled tests. They were part of the National Assessment of Education Progress, conducted nationally for the federal government.
Henderson, who had served as Rhee's deputy, has kept reforms going while toning down the temperature with the Washington Teachers' Union, system critics and others.
"What you won't see is screaming and fighting," she said. "What you won't see is a whole lot of politicking. What you will see is a revolution in the classroom."
Should Mayor Gray run for re-election (see below), the steady school progress will be part of his argument for a second term.
But neither Gray, nor Duncan nor Henderson, was wearing rose-colored glasses.
District schools still rank low despite improvements, and reform is just beginning. The achievement gaps between white, Hispanic and black students remain wide, with a bare narrowing.
It's a problem common in other urban school systems. "That gap was huge in the District and we're starting to close that gap," Gray said.
Duncan himself said the achievement gap here and nationally "is frankly troubling." But he said the District "has unabashedly pursued higher standards" when it could have dumbed down its standards. "To have the greatest improvement out of 50 states is remarkable," Duncan said, "Remarkable."
■ Not so good. There was one sour note at the otherwise upbeat school event held at Malcolm X Elementary in Southeast. The mayor's office tried to freeze out D.C. Council Education Committee chair David Catania. The at-large council member has not been shy in challenging the pace of progress or the yawning achievement gap.
The mayor's staff had invited Catania, but told him he would not speak as part of the program. (Chairman Phil Mendelson had been invited to attend and speak for the whole council, but Mendelson declined.)
Worse than not speaking — or being officially recognized— the mayor's staff tried to relegate Catania to a seat in the audience, not the stage. Organizers only put enough chairs on stage for the mayor and others he wanted.
When Catania arrived, he quietly let it be known to the mayor's staff that he intended to sit with the other leaders and would be on the stage to take a chair. At the last minute, the mayor's staff relented and placed a red metal school chair next to the cloth-padded chairs everyone else had. Catania was a good sport. He sat in his little red chair, applauded and smiled.
Afterward, News4 asked him about the new test scores. Catania has been focusing on the achievement gap, but he didn't take the bait to criticize the mayor.
"I think today is a great day for the city," he said, adding that anytime there is good news "it's good to celebrate."
■ Stampede!! Civic activist, watchdog, skeptic and eagle eye Dorothy Brizill already is all over the 2014 elections. Here's part of what she wrote last week for DCWatch as she observed candidates picking up petitions to run for this or that:
"Currently, eight members of the city council will be running for elective office in 2014," she wrote. "If at-large councilmember David Catania and Ward One councilmember Jim Graham run, then that number will rise to ten. That will contribute to a contentious, unwieldy legislative body for the next year."
That certainly will make the budget negotiations that start in March very difficult. And Graham is widely expected to run for re-election. He's doing an "exploratory committee," an unusual step for someone who has been in office so long. And Catania is widely expected to mount an independent campaign for mayor in next year's November general election.
As Bette Davis said in her movie "All About Eve": "Fasten your seat belts. It's going to be a bumpy night." (The line is often misquoted as "bumpy ride," but you get the point.)
---
Tom Sherwood, a Southwest resident, is a political reporter for News 4.