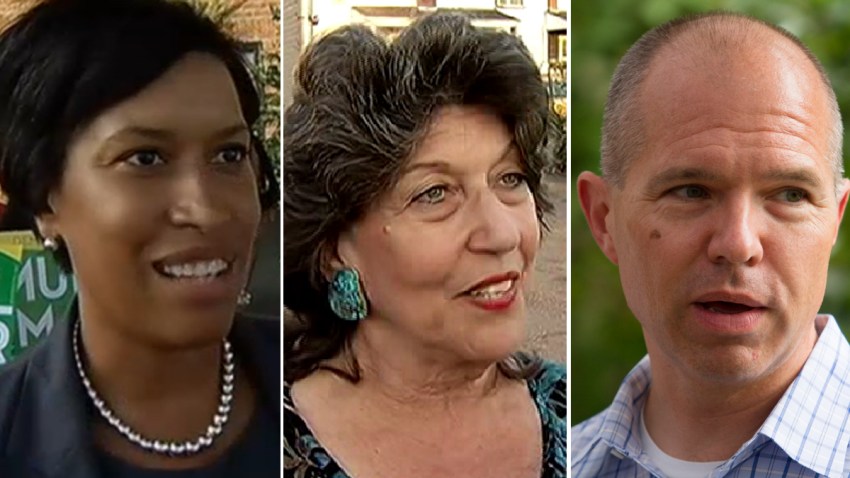 We'll get to the triumphant Nationals in a moment. But it's time for you to start paying attention to this unusual general election mayor's race.
Early voting starts Oct. 20. Election Day, Nov. 4, is just 34 days away.
A recent NBC4/Washington Post/Marist poll showed that Democrat Muriel Bowser held a comfortable lead over independent David Catania, but the poll showed 30 percent either undecided or willing to change their choice. Independent Carol Schwartz trailed in third place.
This week, the three will meet for only their second forum of the campaign. WAMU 88.5 host Kojo Nnamdi will moderate a two-hour radio broadcast at the headquarters of National Public Radio on North Capitol Street. (All tickets are taken.) It'll be on the radio from 7 to 9 p.m. and streaming live at wamu.org. The Notebook will be one of the people asking questions.
Early on, Bowser agreed to only four debates, a break from traditional city politics in which dozens are held as communities and interest groups seek to hear directly from candidates.
Bowser's limited forum approach apparently extends to community questionnaires. This week we learned that the Bowser campaign did not respond to a questionnaire submitted by a group of established organizations, including D.C. Vote, the D.C. Fiscal Policy Institute, D.C. Appleseed and the local chapter of the League of Women Voters.
That's a pretty involved group of organizations. They even gave the Bowser campaign extra time, and a response still wasn't forthcoming.
The groups are set to do live interviews with Catania and Schwartz on Wednesday morning. Bowser declined.
As we have reported, Bowser also turned down both the Federation of Civic Associations and the Federation of Citizens Associations, which together represent about 75 neighborhood groups citywide.
It remains to be seen if those left-out groups will hold it against Bowser. But she clearly holds the lead in the race and apparently believes her ground game will be more effective than forums and questionnaires.
Catania and Schwartz fill out the forms and attend the forums, but they still must find ways to rattle Bowser's comfortable lead.
■ Nats to avenge 2012? On Friday, the Washington Nationals begin their second playoff run in three seasons.
The spectacular 2014 season ended Sunday with a spectacular Jordan Zimmermann no-hitter against the Miami Marlins 1-0, thanks to a spectacular day behind home plate by catcher Wilson Ramos and a spectacular left-field catch by substitute player Steven Souza Jr. (who had entered the game in the ninth inning) for the final out. And we used "spectacular" four times on purpose.
It was the first no-hitter recorded by the Nats. Now the hope is that the team makes it to the World Series.
The Notebook shares all the excitement, but we admit to a more base emotion.
At minimum, we'd just like to avenge the heartbreaking 2012 loss to the St. Louis Cardinals, who eliminated the Nats in the fifth game of the National League Division Series. On the night of Oct. 12, 2012, we were sitting in the stands when the Nats were an out away in the ninth inning, leading 7-5. The Cardinals came back to life, scoring four runs to win 9-7.
Kick in the gut. Painful. It was a long walk out of the ballpark.
The whole Washington region -- except for those die-hard Orioles fans -- can embrace this year's playoff team with first-year manager Matt Williams. He brought discipline to a talented team that needed it.
Congratulations. But keep an eye on those Cards.
■ Picture this: D.C. police debut body cameras. On Wednesday, 160 D.C. police officers began wearing body cameras to record their interactions with the public whenever the officers are on a police call.
Police Chief Cathy Lanier announced the six-month pilot program last week, saying camera use in other jurisdictions has sharply cut civilian complaints. She says it's not just because officers are behaving better, but also because fewer citizens make false allegations against the officers.
"Now, we'll have the video," the chief said.
Fraternal Order of Place chair Delroy Burton appeared at the news conference to back the chief. (That was news in itself because former union leader Kris Baumann had such a toxic relationship with Lanier that they hardly could be in the same room.)
Burton said the successful use of body cameras in other jurisdictions helped persuade his officers to give them a try.
"It's no longer a he-said, she-said" situation, Burton said. "We can go back and review that film, review the audio and quickly clear the matter up."
The pilot project will test five different cameras and cost about $1 million. The department has studied the issue over the past 18 months, since long before the national outrage over police conduct in Ferguson, Mo., prompted calls for more cameras.
There's still a lot to be worked out.
Will the media have timely access to the video through Freedom of Information Act inquiries? Will private scenes of nudity or other sensitive material be redacted? Who will decide that? Will the department be overwhelmed with video from 160 officers working full shifts?
Chief Lanier said the current plan is to keep all video for 90 days before destroying it.
New regulations for the officers say they are to turn on body cameras the moment they receive a call to a crime scene or when they respond themselves to any incident. The officers are not supposed to turn off the cameras until a senior officer clears them from the immediate activity.
■ Final word. Eric Holder is stepping down as U.S. attorney general. And no, no, no, he's not thinking about running for mayor in four years.
Tom Sherwood, a Southwest resident, is a political reporter for News 4.