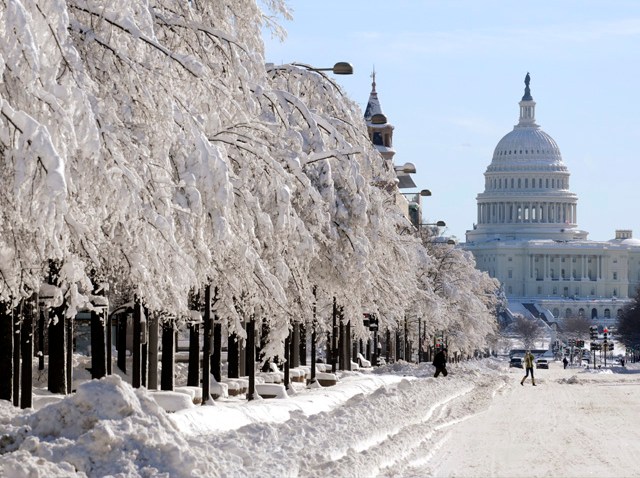 Your Notebook traveled to Fredericksburg, Va., on Saturday for the Donald Trump rally at its Expo Center.
Fortunately, NBC4 cameraman/editor Evan Carr did all the driving. And fortunately, we were in the free-flowing toll lanes going and returning. Even on a Saturday, regular lanes on I-395 and I-95 were horrific displays of Northern Virginia's biggest problem: traffic jams.
And also fortunately, the rally site in Fredericksburg was next door to a Wegmans grocery. Before covering the rally crowd, we had lunch at Wegmans. It was my first-ever Wegmans experience. Wandering around part of the store (too big to see it all), I understood why neighbors of the old Walter Reed site in the District are upset Wegmans has essentially pulled out of the planned redevelopment there.
The grocer told the Washington Business Journal and NBC4 last week that it couldn't reach an agreement with developers of the site. But it also told NBC4 that the city's new $15 minimum wage law, proposed regulations of part-time worker scheduling and possible paid family leave were factors in its decision.
Mayor Muriel Bowser told us Friday on WAMU's Kojo Nnamdi Politics Hour that she wasn't giving up on Wegmans just yet. The Walter Reed site is about 66 acres of land where a whole new community is slated to be built. And now we are Wegmans supporters, too. Good luck, mayor!
Oh, wait. We were writing about the Trump rally.
It attracted several thousand people. The first person in line told us he arrived at 6:30 a.m. for the 6 p.m. rally.
While there have been many reports of angry Trump crowds cursing and yelling at the news media and its alleged bias, we had none of that on Saturday. Your Notebook, who was both outside and inside the rally and was wearing a media badge, encountered not one angry person. Not one.
We did meet many people who are concerned about the direction of their country and told us only Trump understands them. Whatever their political hopes and fears, it was nice to talk to politically involved people who seemed to appreciate being asked what they thought.
■ "Virginia is lost." Despite Trump's raucous rally, the polls show the Republican nominee more than 10 points behind Hillary Clinton in Virginia. She recently postponed her local television ads because she is ahead. Trump this weekend put up his first TV ads in four battleground states. Virginia was not one of them.
On Monday morning, conservative radio host and MSNBC political analyst Hugh Hewitt described the political playing field and said simply, "Virginia is lost."
As we said on NBC4 Saturday, for this election Virginia may no longer be a battleground state.
■ Presidential outcomes. Many Democrats are (unwisely) talking landslide on Nov. 8. Here is a cool New York Times electoral map looking back to 1964: tinyurl.com/NYT-electoral-history.
■ Bongino's #%!%#* world. Maryland voters may be interested in an extraordinary telephone call involving former Republican candidate Dan Bongino.
The former Secret Service agent and author, who lost races for the Senate and the House in Maryland, is in a Naples-area congressional seat primary in Florida this Tuesday.
When Politico reporter Marc Caputo called Bongino on Sunday about Bongino's criticism of a newspaper story, the conversation quickly went downhill. Just know that The Current can't print any of the salty words Bongino used.
If you want to listen yourself, you can visit tinyurl.com/bongino-youtube — but again, you are forewarned of its extremely foul language.
■ Progress at DCRA. Mayor Bowser spent much of last week hunkered down in what many see as the most frustrating agency in town, the Department of Consumer and Regulatory Affairs.
We don't know what improvements Bowser will come up with, but the agency itself has some good news this week for anyone applying for or renewing a basic business license. You can do it online.
The mayor is due to appear at The Coupe in Columbia Heights on Thursday to promote the online application process.
Agency director Melinda Bolling told the Notebook on Monday, "The Portal is going to simplify the licensing process for businesses. By using the portal and skipping a trip to DCRA, business owners can spend the time saved to work with staff or customers — or just to take some time to recharge."
During Thursday's event, the restaurant/bar will renew its business license online.
The regulatory affairs department always draws a huge crowd at D.C. Council oversight hearings. The agency has supplanted the Department of Motor Vehicles and — almost — parking tickets as the major topic of scorn.
Anything that improves the experience there can mean only good things for individuals and businesses that provide services, jobs and tax revenue.
Tom Sherwood, a Southwest resident, is a political reporter for News 4.