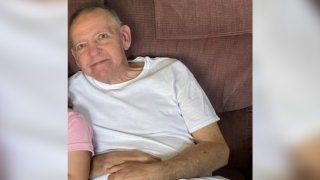 A 79-year-old man with dementia reported missing from Frederick, Maryland, Wednesday was found dead in a creek bed about 6:30 p.m. Thursday.
Anthony "Tony" Walker was last seen on camera leaving his home on Bedford Drive in Jefferson at 1:40 a.m. Wednesday, the sheriff's office said. Video footage shows him wearing a gray Maryland Terrapins sweatshirt, khaki pants and Teva sandals.
"This is an especially sad time for the Walker family, the Jefferson community, and all Frederick County residents," Frederick County Sheriff Chuck Jenkins said. "Our deepest condolences go out to Tony's family, friends, and neighbors and please know that the Frederick County Sheriff's Office will be here to support you however we can."
Walker's daughter said at a news conference Wednesday that her father would be friendly if approached by strangers and would likely remember his two daughters' names, Jennifer Kidwell and Susan White.
More than 175 volunteers participated in a search party to look for Walker on Thursday afternoon. Information on further searches will be posted to the Facebook page for the sheriff's office.