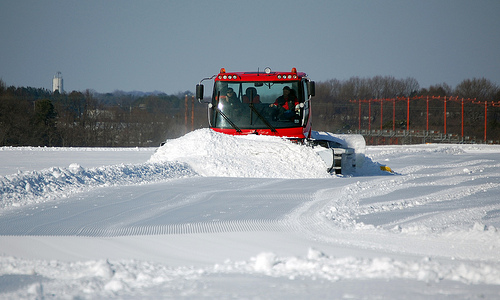 Remember that snow that seemed like it would never go away? Apparently it still hasn't at BWI Thurgood Marshall Airport. Officials at the airport say a large pile of snow is lingering behind an hourly garage.
"This snow, still remaining here in early May, reminds us all of the record storms this winter," said Paul Wiedefeld, executive director of BWI.
Wiedefeld thanked his snow removal team for all their efforts this winter and said this was one "that none of us will soon forget."
According to the National Weather Service, 77 inches of snow dumped on BWI Marshall airport this last winter.
The large pile originally appeared during February's back-to-back blizzards (a.k.a. Snowpocalypse Round #2). Those two snowstorms dumped about 44.5 inches of snow at the airport.
When snow removal teams cleared the airport's hourly garage, they created a massive pile on the backside. Apparently that snow has survived through rain and heat. But airport officials expect this will be the week they can finally say goodbye to the 2009-2010 winter season.