A fast-strengthening Hurricane Sandy veered left on a path to the East Coast Monday. All airlines serving Dulles International Airport and Reagan National Airport cancelled service, and major school systems - including D.C. public schools and Montgomery County, Md. schools - cancelled Tuesday classes.
The nation's capital shut down rail service for the first time since 2003, and shortly after noon President Barack Obama weighed in.
"This is gonna be a big storm, this is gonna be a difficult storm," Obama said in a press conference in the White House briefing room. He also praised state and municipal crews for coordinating to meet needs as they arise.
"Please listen to what your state and local officials are saying," Obama said, striking a cautionary tone. He encouraged people under evacuation orders to take the orders seriously.
"Don't pause, don't question," Obama said. "This is a serious storm and could potentially have fatal consequences if people aren't acting quickly."
In a similar statement, Maryland's governor warned his state was in the "crosshairs" of what would likely prove to be a deadly storm.
"There will be people who die and are killed in this storm," Gov. Martin O'Malley said during a morning press conference.
O'Malley said flooding from the Chesapeake Bay could be worse than expected because of winds pushing water up into the bay and urged Marylanders to stay off the roads for the next 36 hours.
As of 2 p.m. Monday, Hurricane Sandy was about 200 miles northeast of D.C., with hurricane-force winds extending outward up to 175 miles.
The center of the storm is expected to hit southern New Jersey around 5 p.m. Monday, with winds of greater than 90 mph.
Sandy inflicted considerable damage overnight to Ocean's City's iconic ocean pier. In mountainous western Maryland, a blizzard warning was issued for sections of Garrett County for Monday night into Tuesday morning.
Local
Washington, D.C., Maryland and Virginia local news, events and information
Up and down the Eastern seaboard, wind is picking up, icy rain is falling, and rescue workers are responding to accidents on local roadways.
"Let me be clear: This storm is unique, large, dangerous and unlike anything our region has experienced in a very long time," D.C. Mayor Vincent Gray said. "We are likely to suffer significant power outages due to fallen trees and other debris, and we may experience significant street flooding. Let me also be clear about this: The District government is ready to meet this challenge."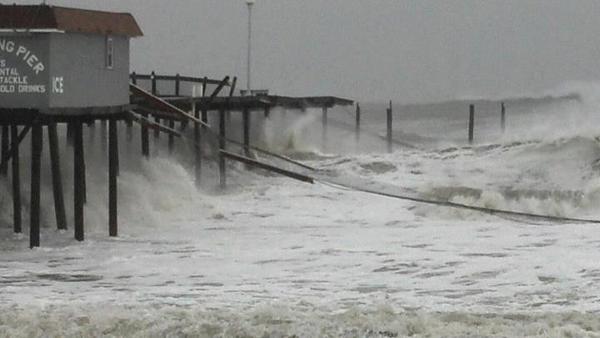 WIDESPREAD CLOSURES
The federal government has closed nonessential offices to the public in the D.C. region Monday due to Hurricane Sandy. The District is among the local governments closing offices at least for Monday.

Even the New York Stock Exchange and the NASDAQ exchange in New York City said they would close; it was the first weather-related closure of the NYSE in 27 years.
Metro canceled service for its rail system, buses and Metro Access until further notice.
Amtrak has now canceled service on its Northeast Corridor through Tuesday. The Maryland Transit Authority followed suit in announcing that no MARC trains nor commuter buses would run Monday, as did VRE. Fairfax Connector service also will be suspended Monday.
More than 7,000 flights in and out of the East have been canceled.
A $15 storm surcharge is in effect for all D.C. taxi rides.
Well before the storm, President Barack Obama declared an emergency in D.C. and ordered federal aid to help the city's response. Obama also canceled a campaign appearance in Orlando and returned to D.C.

The emergency declaration authorizes the Federal Emergency Management Agency to allocate resources to alleviate the impacts of Hurricane Sandy at 75 percent emergency funding.

Even Capital Bikeshare closed temporarily at 1 a.m. Monday. Bikes can be returned, but new rentals won't be allowed until weather conditions allow.

Among the airlines, Delta, US Airways, United, Virgin and American Airlines announced that they would waive or relax change fees for customers re-booking flights ahead of the storm. United announced Sunday that it had begun canceling some flights to and from all three major regional airports, as well as Richmond, Roanoke and Norfolk.
Medstar Washington Hospital is open and operational, but ambulatory clinichs and procedure areas will remain closed until noon Tuesday, Oct. 30.
More cancellations were expected Monday and Tuesday. Passengers are advised to check with their specific airlines to confirm their flight status.

In Ocean City, police department spokesman Mike Levy said damage to the downton pier happened overnight Sunday, as the storm began to pound the resort town with massive wind and rain.

The pier is at the southern end of the boardwalk, in an area south of 17th Street that's been under a mandatory evacuation order since Sunday afternoon because of flooding.

FLOODING, HIGH WINDS EXPECTED: SIGNIFICANT STORM

Throughout the day Monday, our winds will be steadily increasing to the 30 mph range with gusts of 40-55 mph. As evening begins, the winds will quickly ramp up, blowing steadily out of the northwest at 30-50 mph, with gusts of 50-70 mph.
Already Monday morning, the Delaware Bay buoy clocked wind gusts of 50 mph.
The National Weather Service issued a high wind warning for our area in effect until 8 p.m. Tuesday. A flood watch is also in effect until then for most of our area.

With 5-10 inches of rain expected in much of the D.C. area (3-5 inches further west) and high tides 1-3 feet above normal Monday, flooding is likely in our area, Storm Team 4 meteorologist Doug Kammerer said.

The full moon is expected to create tidal anomalies of 1-2' along the Tidal Potomac River and Chesapeake Bay.
The strong north and northwesterly winds Monday will cause a "blow-out" tide along the western shore of the Chesapeake and the Tidal Potomac River, said Storm Team 4 meteorologist Kim Martucci. When our winds swing around to the southwest on Tuesday, the water will be pushed back into the Bay and the Tidal Potomac along the south-facing shores. You should expect the highest tides for most of our area with the Tuesday high tide cycle.

As Sandy's soaking rains move west, local rivers will be quickly rising. Goose Creek, near Leesburg in Loudoun County, will see major flooding similar to a previous flood on May 12, 2008.
The Monocacy River near Frederick will also rise above flood stage by early Monday evening, and will crest near 32 feet by early Tuesday afternoon. At 30 feet, water reaches the second floor of Gambrill Mill on the Monocacy National Battlefield. It would be the second highest crest on record and compares to the crest with Hurricane Eloise in 1975.

Likewise, flood warnings are in effect for the Shenandoah River at Millville, the Rappahannock River at Remington, Opequon Creek near Martinsburg, and the Potomac River at Paw Paw. At Paw Paw, the flood stage is 25 feet and the forecast is a crest of 30.8 feet between Tuesday afternoon and late Wednesday night. This would be the worst crest since 1996.

This storm is undergoing incredible dynamics in the atmosphere. Hurricane Sandy will interact with a very strong, wintertime jetstream. As a hurricane, Sandy thrives off the energy generated by warm ocean water. When she interacts with the cold Jetstream winds, she'll become "sub-tropical" and her energy will be generated by the huge temperature differences in the atmosphere. No matter what she is called, this storm will affect folks from Maine down to North Carolina. Wide-spread power outages will keep Sandy in the headlines for days to come.

The combination of storms will even bring a chance of snow to our area -- just flakes near D.C., but snow was reported in West Virginia as of 1:30 p.m. Tuesday.
Winter storm watches are in effect for Maryland and West Virginia.

A coastal flood warning for the Potomac River, the Chesapeake Bay and especially the Atlantic Ocean is in effect from midnight Monday to 8 a.m. Wednesday.

And the storm will take its time leaving. The weather may not start clearing in the mid-Atlantic until the day after Halloween and Nov. 2 in the upper Northeast, Cisco said.

"It's almost a week-long, five-day, six-day event," said National Oceanic and Atmospheric Administration forecaster Jim Cisco from a NOAA forecast center in College Park, Md. "It's going to be a widespread, serious storm."
Some have compared the tempest to the so-called Perfect Storm that struck off the coast of New England in 1991, but that one hit a less populated area. Nor is this one like last year's pre-Halloween storm, which was merely an early snowfall.

POWER OUTAGES SPREAD

The expected period of extended winds will raise the threat of extended power outages through next week.

With a rare mix of three big merging weather systems over a densely populated region, experts say there could be at least $1 billion in damage.
As of 1:30 p.m. Monday, Dominion Virginia had more than 9,700 customers without power, including nearly 4,500 in Northern Vrigina.
Pepco was reporting a total of 1,677 outages, with the bulk of those -- 1,357-- in Prince George's County, and 287 in the District.
BGE repored more than 14,900 outages, with 3,000 of those in Anne Arundel and 1,600 in Howard County.
SMECO reported 1,914 outages across four counties.
In his White House statement, Obama warned that crews would have their hands tied until the storm dies down -- meaning that it may take several days for power to come back on.

PREPARATIONS FOR SANDY
Supplies flew off the shelves of local supermarkets ahead of the storm. Virginia Gov. Bob McDonnell urged Virginians to "please prepare" for what he predicted would be a "unique, long-lasting storm."

People along the Delmarva Peninsula, including in Ocean City, packed up in advance of a deadline to evacuate by 8 p.m. Sunday.

In advance of the storm, the District of Columbia, Maryland and Virginia declared states of emergency. The executive orders clear the path for faster response.

At the moment, no mandatory evacuations have been ordered in Virginia or Maryland, though McDonnell noted Saturday that his executive order gave local authorities in Virginia the power to order local evacuations if they saw fit. In Maryland, officials in St. Mary's and Charles Counties declared a local state of emergency Saturday.

Speaking on a conference call Saturday afternoon, Virginia Gov. McDonnell said that the entire Virginia State Police force had been placed on standby.

Utilities were preparing as well: Pepco requested to bring in an additional 2,500 linemen, 400 tree trimmers and 200 damage assessors from other utilities. Similarly, Dominion Power in Virginia said that it had requested an extra 2,000 workers from outside the state to assist with potential power outages.

Pepco called some customers late Friday with a recorded message, saying they were closely watching the storm. "We are preparing and we encourage our customers to prepare as well," the message said.

Meanwhile, Maryland utility regulators announced Friday that they'd end a controversial policy that allowed power companies to charge customers for lost sales during the first 24 hours of a major power outage.

Emergency services from throughout the region said they were gearing up, trying to clear storm drains and calling in personnel to be on standby. The Washington Suburban Sanitary Commission began moving in generators and topping off their chemical storage tanks.

Metro began to place sandbags around Metrorail locations prone to flooding. Metro also said that its workers were checking drainage pumping stations and clearing drainage areas of leaves, while additional support personnel were scheduled to be on duty throughout the storm.

Meanwhile, some federal agencies activated their emergency systems as well, including the Customs and Border Patrol, which activated field coordinators to communicate if needed.
Interior story image credits: Josh Birch (@jbirch12), Ocean City pier. Kurt Bradshaw (@kurtb) Inner loop accident near Connecticut Avenue.
---

Get the latest weather from NBCWashington.com:
Download our NEW free weather apps for iPad and iPhone. You can also follow us on Twitter and Facebook, and sign up for our e-mail newsletters.
Copyright AP - Associated Press