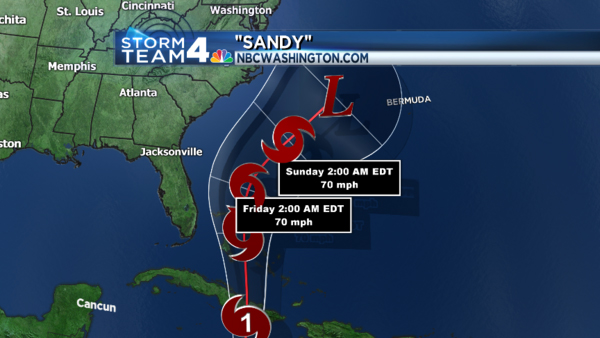 It's been a beautiful week so far in the D.C. region. Temperatures have been approaching the 80s -- and Wednesday will see a high of 81, falling just short of the record of 84 degrees, set in 2001.
But if you take a look around, leaves are changing and starting to fall -- a colorful reminder that it's October, not late August.
The warm, sunny weather may meet its end this weekend, says Storm Team 4 Meteorologist Tom Kierein. "Big changes are likely coming in for the weekend due in part to Tropical Storm Sandy," he said. The storm, which is appearing rather late in the season, "may track along our Atlantic seaboard by Sunday and then move slowly north by late Tuesday."
What does this mean? Sandy could bring "strong gusty wind, Sunday, Monday and Tuesday, along with, perhaps, a few passing showers," Kierein said.
It's still too soon to tell exactly which way Sandy will turn -- the storm might move east, which would mean very little rain for the region.
Stay tuned to News4 and NBCWashington.com this week to see how Tropical Storm Sandy progresses.