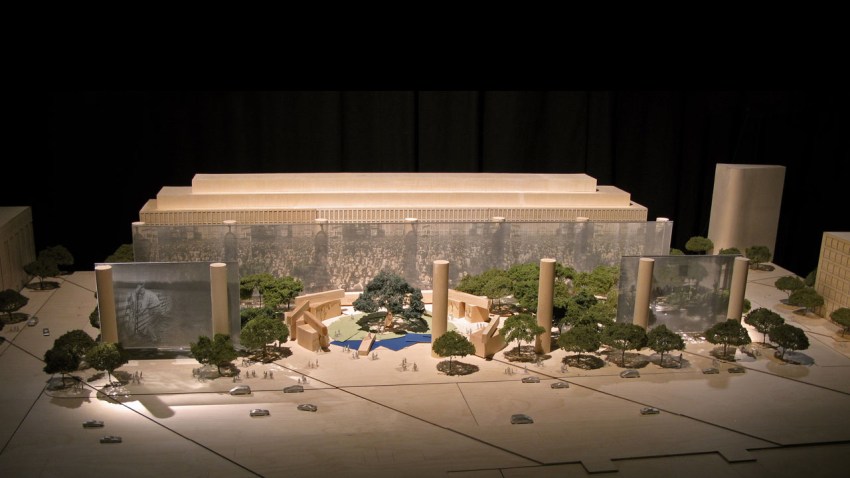 A member of President Barack Obama's cabinet is taking a direct interest in helping to resolve a dispute over the design of a national memorial to Dwight D. Eisenhower, which could delay the project beyond the summer, according to discussions revealed Thursday.

Interior Secretary Ken Salazar has expressed interest in viewing models of architect Frank Gehry's design with the key parties involved, said Interior Department spokesman Adam Fetcher. No meeting has been set, but Salazar could hold discussions about how the memorial project could move forward.

That means approvals for the memorial design will likely be delayed. The federal Eisenhower Memorial Commission had hoped to get the go ahead from two panels in June and July that are needed before construction can begin along the National Mall in Washington.

Eisenhower's family has objected to the design for months.

Gehry has proposed a memorial park with statues depicting Eisenhower as the 34th president and World War II general on the eve of the D-Day invasion, along with notable quotations. Large metal tapestries depicting the landscape of Eisenhower's boyhood home in Kansas would frame the park.

Last week, the family welcomed changes in Gehry's design with the addition of the statues but said the use of the large metal scrims to frame the park remained "controversial and divisive." Eisenhower's granddaughters have said they focus too much on Ike's humble roots, rather than his accomplishments. They also questioned how long the metal material would last.

The family said it won't support a design that uses the metal scrims.

Salazar weighed into the dispute for the first time last week and has met with the Eisenhower family.

"Though it is important to move forward as swiftly as possible, our priority must be in getting it right," Salazar said last week. "If more time is required to get it right, so be it."

Early this year, he also met with members of Martin Luther King Jr.'s family and forced a change in an inscription at the new memorial honoring the civil rights leader.

Memorial commission members Hawaii Sen. Daniel Inouye and Kansas Sen. Pat Roberts said Thursday that the panel will work to make sure any outstanding questions about the design are answered. They said Gehry has been "extremely open" to listening to concerns.

"We look forward to working with the Department of Interior to accomplish this while avoiding additional costs and excessive delays that would deny our nation's dwindling population of World War II veterans the opportunity to experience the memorial in their lifetimes," they said in a joint statement.
Copyright AP - Associated Press