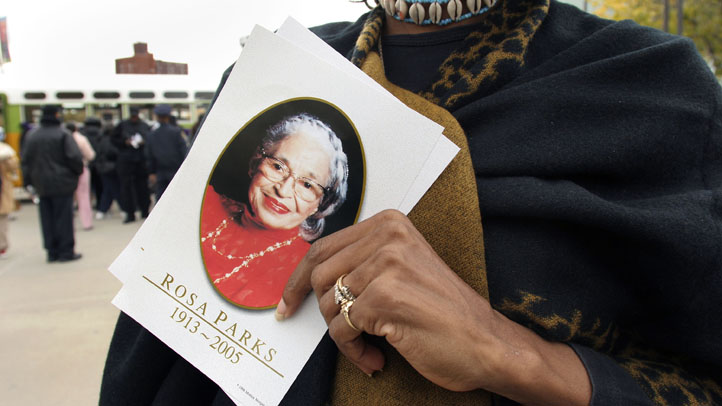 A statue of civil rights pioneer Rosa Parks is set to arrive on Capitol Hill Friday, though it will be a few days before many get to see it.
The 9-foot, bronze statue of Parks is the first full-sized statue of an African-American woman in the Capitol.
Not much is known about the statue now, except that it is larger than life and, with its black granite pedestal, weighs some 2,700 pounds. It was created by San Pedro, Calif. artist Eugene E. Daub, who has also done commissions for Abraham Lincoln at his birthplace and Thomas Jefferson at the University of Virginia, reports the Detroit Free Press.
Daub and the firm Firmin Studios LLC worked closely with U.S. Capitol architect Stephen T. Ayers to design the newest addition to the Capitol's art collection, the Detroit News reported.
The official unveiling of the statue will happen next Wednesday in the Capitol's Statuary Hall. President Obama will speak at the ceremony, and has said it will be a "powerful moment.''
House Speaker John Boehner previewed the installation in an online video this week.
It's unusual for Statuary Hall to include a national figure in its collection. The statuary there is commissioned by each state to recognize a person of historical significance in that state. Each state gets two statues.
But Parks' statue was authorized by an act of Congress in 2005. It was the first time the Congress had requested a full-sized statue since the 1870s, according to the New York Times.
Parks made history in Montgomery, Ala. in December 1955, when she refused to give up her seat on a bus to a white passenger. Her act led to a citywide bus boycott in Montgomery and encouraged nationwide efforts to end segregation.
Parks moved to Detroit in 1957, where she died in October 2005.
Obama said Thursday in a radio interview with Al Sharpton that the statue will put a seamstress who helped bring about a "more just America'' in her rightful place among some of the titans of U.S. government.