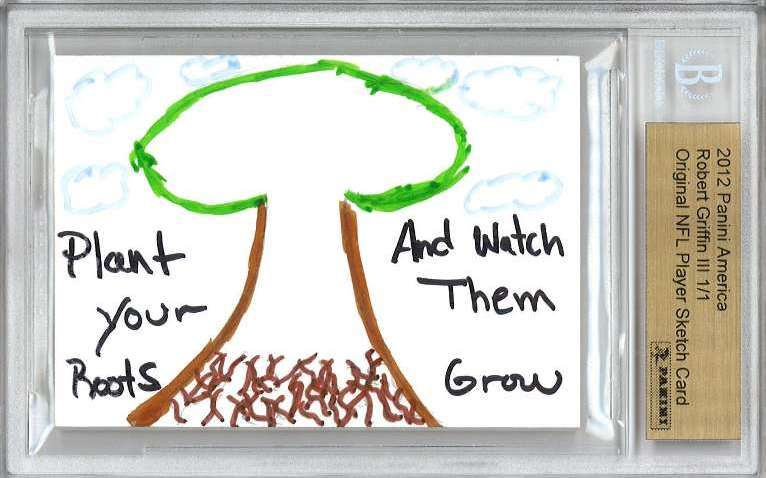 In May, trading card manufacturer Panini America handed several of the NFL's top rookies a blank card-sized canvas and told them to sketch something. Last month, the company released the prints online, sharing the "artistic talents" of this year's crop of rookies with the world.
Washington Redskins quarterback Robert Griffin III was one of the lucky few to be given the opportunity to express himself through art. He did not disappoint.
(Photo credit: Panini America)
That is supposed to be a tree, I think. Those roots are a little suspicious looking (I'll allow SB Nation to describe them), but the message is simple: "Plant your roots and watch them grow."
The card is one-of-a-kind (it is autographed on the back as well). For those wondering, it's not on eBay (though Andrew Luck's sketch of Lucas Oil Stadium recently fetched $1,500), so trying to get your hands on it might be a fruitless endeavor (because some fruit grows on trees...sorry).
If you are a parent of a small child, I'm sure you can find a replica of RGIII's masterpiece at any nursery school or kindergarten class.
(H/T SB Nation)
---
Follow Adam on Twitter @AdamVingan and e-mail your story ideas to adamvingan (at) gmail.com.