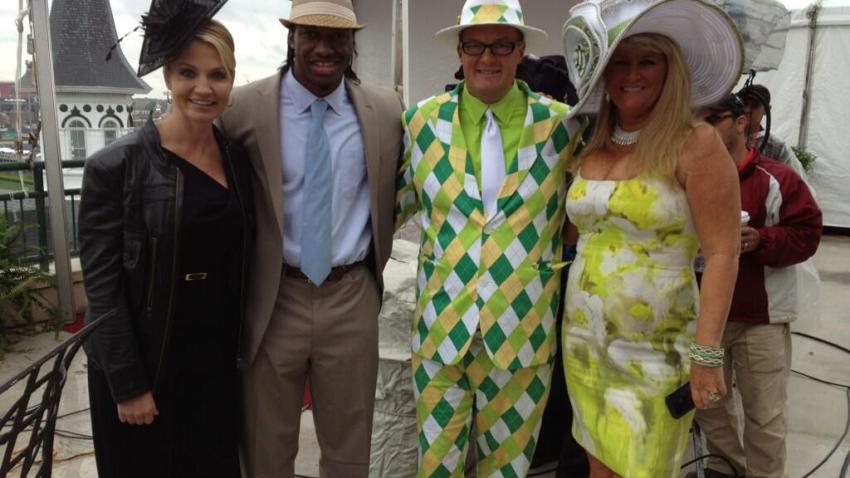 Last weekend, Robert Griffin III attended an NFL Draft party at FedEx Field and did jumping jacks, which became news. In this weekend's edition, the Redskin quarterback attended Saturday's Kentucky Derby, which has once again become news (I'm sorry, by the way).
Just hanging with @rgiii and our new best friends! twitter.com/MichelleDBeadl… — Michelle Beadle (@MichelleDBeadle) May 4, 2013
. @ultimamorgan hanging out with @rgiii at the #Derby twitter.com/JohnMorganESQ/… — John Morgan (@JohnMorganESQ) May 4, 2013
Good to know that RGIII can pull off a zoot suit. Eat your heart out, Dick Tracy.
Griffin picked Palice Malice, a 22-1 longshot, to win the race, which was ultimately won by favorite Orb.
So to recap, here's what Griffin has done this offseason (other than answer an infinite number of questions about his health): Attended "Disney On Ice," had a street named after him, photobombed Ken Starr, met President Obama, threw footballs to an elephant and fought Angel McCoughtry on Twitter, not necessarily in that order.
And he has about two months to add to that list.
---
Follow Adam on Twitter @AdamVingan and e-mail your story ideas to adamvingan (at) gmail.com.