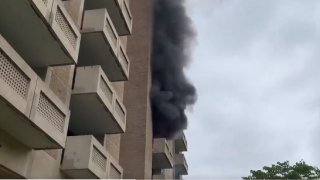 Firefighters had to rescue people from their balconies in Southwest D.C. on Sunday when a large blaze sent thick black plumes of smoke throughout the building and through the roof.
D.C. Fire and EMS said 100 firefighters responded to the 10-story building at 300 M Street SW in the afternoon.
Video from the fire department showed rescue workers using ladders to save people who were stuck on their balconies.
Firefighters knocked out the blaze that started inside a third-floor apartment.
Medics evaluated people at the scene and the fire department said there were no serious injuries reported. One woman was taken to a hospital with a non-life threatening injury, fire officials said.
The Red Cross is helping displaced residents. It's unclear at this time how many residents are displaced.
Two cats were found dead after the fire, the fire department said.