What to Know
U.S. Capitol Police say a woman driver nearly hit an officer and crashed into a police cruiser.
Taleah Everett, 20, of no fixed address, was arrested. Family members said she has mental health problems.
The incident comes three years after law enforcement shot and killed a woman who hit a Secret Service officer near the White House.
U.S. Capitol Police fired shots at a woman driver during a confrontation near the Capitol Building Wednesday morning. Officials say that just before the clash, the woman fled from a traffic stop and nearly hit an officer.
Taleah Everett, 20, was arrested after the shooting near the U.S. Botanic Garden, on the 100 block of Independence Avenue SW.
Police said the incident appeared to be criminal in nature and not related to terrorism. The woman's family told News4 she is mentally ill and did not get the care she needed.
The incident began about 9:20 a.m. when an officer saw someone driving erratically, headed eastbound on Independence Avenue. The driver nearly hit the officer, Capitol Police said.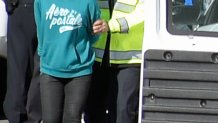 The officer put out a priority alert, and barricades were put up along the avenue, trapping the dark-colored Chevrolet sedan.
The driver made a U-turn, drove the opposite way on Independence Avenue and crashed into a police cruiser, tearing the grille from the car.
Then, as tourists headed to see the cherry blossoms and Capitol Hill staffers walked to work, at least one Capitol Police officer fired at the car.
"During the attempt to arrest the individual, shots were fired," Capitol Police spokeswoman Eva Maleki said at a news conference.
No one was hurt.
Everett was arrested and taken to Capitol Police headquarters for processing. She was charged with seven counts of assault on a police officer, two counts of destruction of property, fleeing, leaving after colliding and not having a valid license.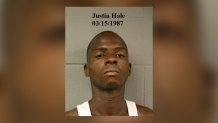 Additional information was not released immediately on what prompted officers to fire, how many officers fired, how many shots were fired or whether the suspect was armed.
The investigation is ongoing.
Video from the scene showed officers putting Everett, a small young woman who was wearing a teal sweatshirt, into a police van. The windows of the car with Maryland tags had been shot out. There were two bullet holes through the windshield.
A woman who was headed to the Capitol to visit her congressman found herself near the mayhem.
Local
Washington, D.C., Maryland and Virginia local news, events and information
"We saw somebody running and we heard three shots fired," Linda Yanta told NBC News. "We did not know what was going on or who was shooting."
The Capitol Building was not closed as it all unfolded. Independence Avenue was closed between Washington Avenue and 1st Street SW for hours. The public was asked to avoid the area.
Everett's Family Describes Mental Illness
Everett's aunt, Bonnie Everett, told News4 that Teleah Everett had serious mental health issues. The former Ballou High School student from Southeast D.C. had been diagnosed with bipolar depression and had psychotic behavior, she said.
Her family was desperate for help and tried to get help several times. Less than two weeks ago, Everett's aunt filed a petition at a Prince George's County courthouse for an emergency health evaluation. A judge denied the request, the young woman's aunt said.
"We know that she needs help. Unfortunately the judge didn't see that, and this is the result of her not getting the care that we know she desperately needed," she said.
Everett was due in court Monday on domestic violence charges, but she never appeared.
A family friend said her heart ached for the young woman's family.
"The whole family is sweet, the whole family got structure," Helen Butler said. She said her daughter saw Everett driving erratically Sunday night. The car she drove then and also on Monday was her mother's, Butler said.
Previous Incidents at the Capitol
In October 2013, 34-year-old Miriam Carey was shot and killed by law enforcement after she hit a security barrier and a Secret Service officer outside the White House, leading police on a chase that ended near the Capitol. The dental hygienist who drove to D.C. from Connecticut had her 1-year-old daughter in the car. The child was not hurt.
Her family later said she had been suffering from postpartum depression and psychosis. Police in Stamford, Connecticut, said Carey had reported that she believed former President Barack Obama had her under surveillance.
One year ago, a Capitol Police officer shot and injured a man who brought a weapon into the U.S. Capitol Visitor Center. Larry R. Dawson, 66, was known to law enforcement and frequented the Capitol grounds.
What Capitol Police See
Hundreds of dangerous drivers have been stopped near the Capitol in recent years. The News4 I-Team found about 300 cases of drivers stopped for driving under the influence on Capitol grounds since 2014. Additionally, people were found to have been driving without licenses and with drugs in the vehicles.
U.S. Capitol Police have jurisdiction spanning several blocks around the Capitol Building itself. Congressional leaders say that's because they want to stop threats before they get close to this focal point of the U.S. government.