The last three cars on a Green Line Metro train derailed Friday afternoon inside of a tunnel near the West Hyattsville Metro station, and WMATA is considering extreme heat as a cause.
There were no initial reports of injuries among the 55 passengers who were on the train. Those passengers were evacuated.
The train derailed at about 4:45 p.m. between the Prince George's Plaza and West Hyattsville stations. It was going inbound in the direction toward West Hyattsville. Metro said the train derailed about 1,000 feet from the station.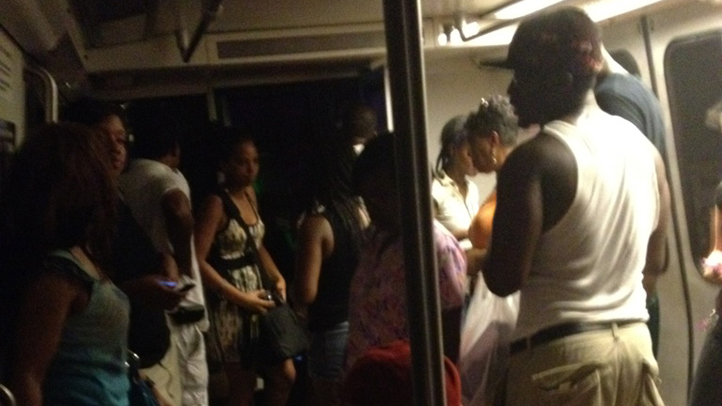 Photo courtesy Jaisy Niley
Passenger Jaisy Niley told News4 that the train started "hitting the railing really hard," and then went off the rail.
She said there was no air conditioning on the train. Metro cut power to the tracks after the incident. Temperatures were in the upper 90s at the time of the incident.
All of the passengers on the derailed train were walked out of the tunnel to the surface through a hatch in 100-degree heat.
One pregnant passenger in her 20s was transported to a local hospital for a checkup.
As a result of this derailment, all above-ground Metro trains will have speed restrictions to a maximum of 35 mph across the board, according to Metro spokesman Dan Stessel.
Officials are investigating the derailment to determine the cause. A tweet from @WMATA said, "A heat-related track problem is a possible cause of today's derailment on the Green Line."
Officials are looking at the portion of tracks shown below, which could possibly contain a "heat kink."
Green Line service will remain suspended between Fort Totten and Prince George's Plaza through the end of Friday, and possibly through the entire weekend.
Shuttle buses are transporting passengers through the area approximately every 10 minutes, Metro said.