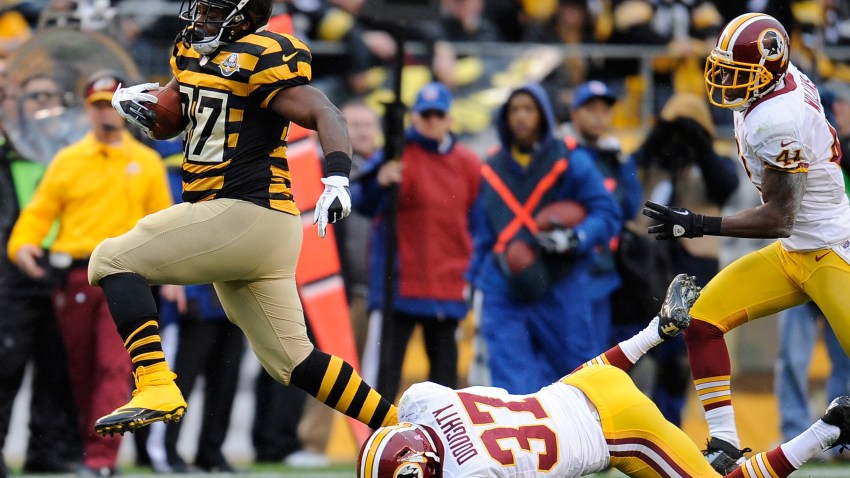 I think the Washington Redskins forgot that Halloween isn't until Wednesday. You know, considering the abject horror that took place at Heinz Field Sunday.
The Redskins' receiving corps had more drops than Hershey and Ben Roethlisberger carved through their defense like a jack-o'-lantern, throwing three touchdowns as the Pittsburgh Steelers coasted to a 27-12 victory.
From the game's outset, the Steelers -- who, three days before Halloween, apparently decided to all dress like Heather DeLoach from Blind Melon's "No Rain" music video -- controlled time of possession and jumped out to a 10-0 lead by the end of the first quarter. The Redskins cut it to 10-6 on a Santana Moss two-yard touchdown catch, but when Kai Forbath's extra point attempt was blocked, things began to unravel.
The Steelers took a 20-6 lead into halftime and the Redskins got no closer than 11 in the second half. Forbath redeemed himself by nailing two field goals, but the rest of the Redskins could not muster any sustained offense.
Robert Griffin III finished 16-34 for 177 yards and one touchdown, but he can't accept all of the blame for his completion percentage; Washington's receivers dropped at lesst 10 passes, which is the most by any team in a game so far this season.
Meanwhile, DeAngelo Hall is sure to face a fine by the NFL for removing his helmet and berating an official; he received an unsportsmanlike conduct penalty for his actions and was ejected from the game. It doesn't take a rocket scientist to figure out that that was pretty dumb.
With the loss, Washington falls to 3-5 on the season and will return home next Sunday to face the Carolina Panthers.
---
Follow Adam on Twitter @AdamVingan and e-mail your story ideas to adamvingan (at) gmail.com.