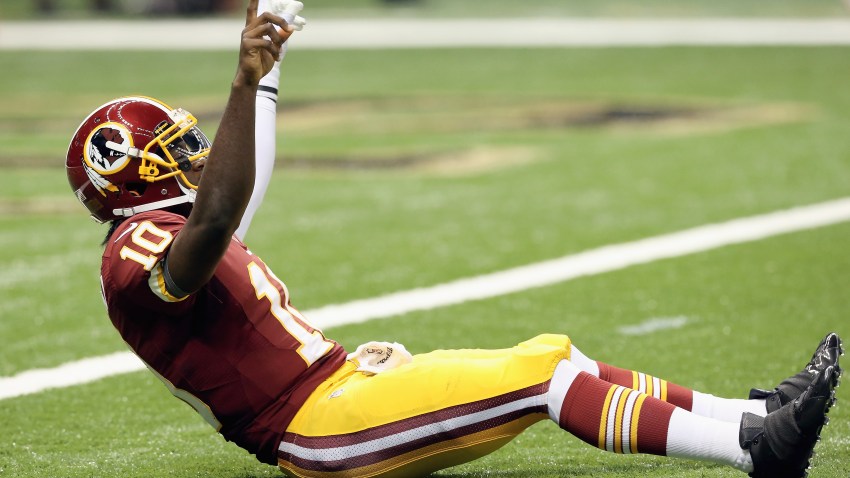 Have you accepted Robert Griffin III as your lord and savior?
RGIII may be a Redskin, but after his debut performance in New Orleans, he might as well be a saint.
Griffin's first game could not have gone any better as the Redskins pulled a Week 1 upset in a 40-32 victory over the Saints.
Griffin began his NFL career with eight straight completions, none of which was bigger than his first career touchdown pass. After a holding penalty negated a lengthy Brandon Banks return, the Redskins were forced to start their drive from their own 12. Despite being drilled by Malcolm Jenkins, Griffin was able to get a pass off to Pierre Garcon, who did the rest and took off for an 88-yard touchdown to give Washington a 10-7 lead. It was the longest touchdown catch for the Redskins in over 35 years and tied for the second-longest by a quarterback in his debut in NFL history.
RGIII finished the first half 11-of-13 for 182 yards and two touchdowns. His perfect 158.3 QB rating after 30 minutes made him the first rookie in NFL history to do so with at least 10 pass attempts. By game's end, he finished 19-of-26 for 320 yards and two TDs. The 320 yards are the second-most by a rookie quarterback in Week 1 in NFL history.
(Also, in an attempt to make you feel old, RGIII is the first quarterback born in the 1990s to start a NFL game. Did that work?)
Aldrick Robinson's first career touchdown catch gave Washington a 20-7 lead, but New Orleans cut into it as time expired in the first half. Sav Rocca's first punt of the season was one he'd like to have back; Martez Wilson broke through and blocked it and Courtney Roby corralled the loose ball for a four-yard touchdown.
The Redskins, however, seized momentum back to start the second when Alfred Morris rushed for a one-yard score to give them a 27-14 lead. Washington, as it did all afternoon, held New Orleans at bay -- including twice after the Saints cut the lead to eight in the fourth quarter -- and sealed the victory.
In non-Griffin player statistics, Morris impressed in his own debut with the two aforementioned touchdowns and 96 yards. Pierre Garcon finished with four receptions and 109 yards, but did not play after scoring his touchdown with a foot injury.
Washington's victory over New Orleans certainly qualifies as an upset; the Saints were heavily-favored and highly-motivated entering play Sunday, but instead lost their first game at the Superdome since January 2011. The 40 points are also the most the 'Skins have scored under coach Mike Shanahan and more than they scored in a single game all last season (28 being the high), not to mention the first time that the 'Skins have hit the 40-point mark since October 2005.
With a statement win in tow, the Redskins head to St. Louis next Sunday to face the Rams.
---
Follow Adam on Twitter @AdamVingan and e-mail your story ideas to adamvingan (at) gmail.com.