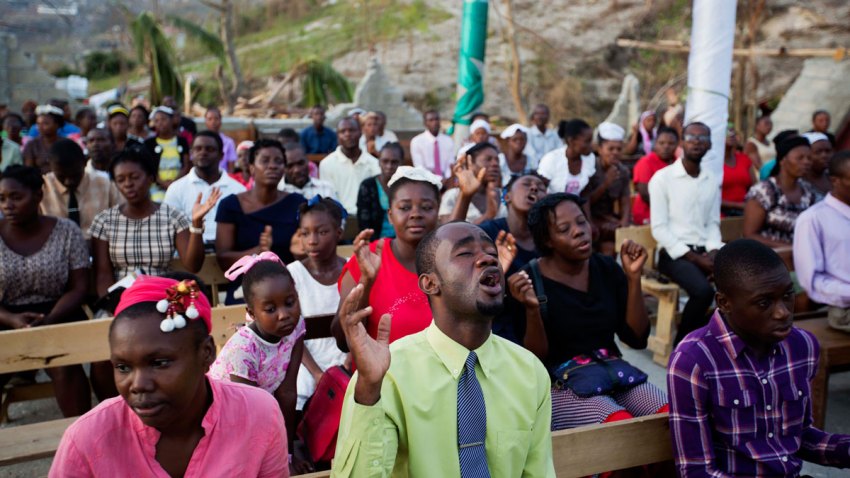 Redskins players Pierre Garçon and Ricky Jean Francois are taking a plane full of medical supplies to Haiti, the second effort from the team within three days to help nations struck by Hurricane Matthew.
On Saturday, Redskins owner Dan Snyder and his wife, Tanya, flew a plane of supplies to the Bahamas, according to the team's blog. The hurricane barreled along the length of the Bahamas last week, felling trees and causing flooding so severe that it trapped people in their homes.
Monday, wide receiver Garçon and defensive end Jean Francois are traveling to take supplies to Haiti, where the hurricane killed hundreds, destroyed tens of thousands of homes, and rendered many communities cut off from aid.
"Garçon and Jean Francois are U.S. citizens who are of Haitian descent, so to see their home country in the state it is right now has hit them hard," according to the Redskins' blog.
"Keep Haiti in your prayers," read a graphic Garçon posted to Instagram last week.
An Instagram video he posted Monday shows Redskins head trainer Larry Hess in a room full of supplies going to Haiti.
"Trying to help out, give what we can give, help out down there in Haiti. Hope you guys have a good trip," Hess said. "We got IV solutions; we got a bunch of medical supplies, gauze, some wound care stuff, ACE wraps, a lot of bandages.... Hopefully, that helps out."
Jean Francois shared an image about 10 a.m. Monday from the plane. "Next stop Haiti..." he wrote.