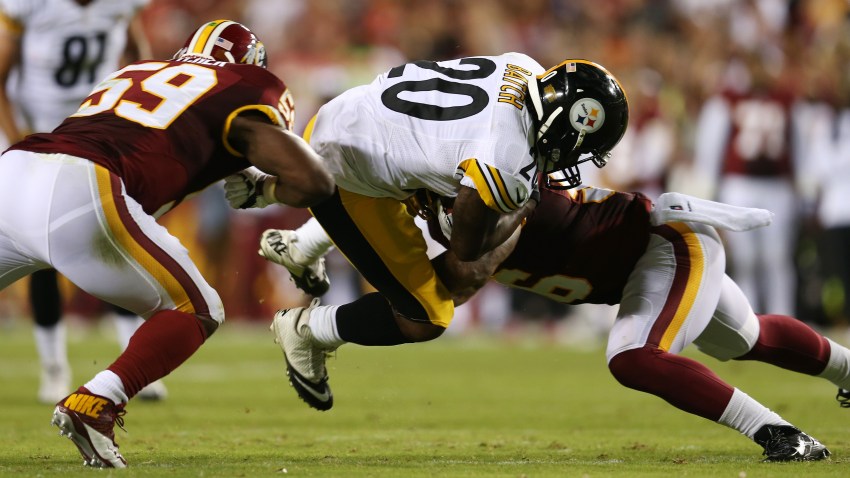 The Redskins defeated the Steelers Monday by a 24-13 score to improve to 2-0 in the preseason, but that certainly wasn't the story.
Six 'Skins -- yes, six -- suffered injuries as Kirk Cousins (sprained right foot), Barry Cofield (broken bone in right hand), Leonard Hankerson (bruised right knee), Aldrick Robinson (bruised left thigh), Chris Thompson (arm) and Keiland Williams (strained left knee) did not leave the game unscathed.
Fortunately, the prognosis for Cousins and Cofield seem promising. Reports indicate that x-rays on Cousins' foot were negative, while Cofield "should be okay," according to head coach Mike Shanahan.
In Cousins' place, Rex Grossman completed 10 of 16 passes for 133 yards and one touchdown to Hankerson which gave the Redskins a 14-3 second-quarter lead. Ryan Kerrigan opened the scoring by intercepting Ben Roethlisberger and returning it 22 yards for the score. Roy Helu made good on his one carry of the game, rushing 30 yards to the end zone to put the game out of reach in the fourth quarter.
Washington's third preseason game is Saturday against the Buffalo Bills at FedEx Field.

---
Follow Adam on Twitter @AdamVingan and e-mail your story ideas to adamvingan (at) gmail.com.