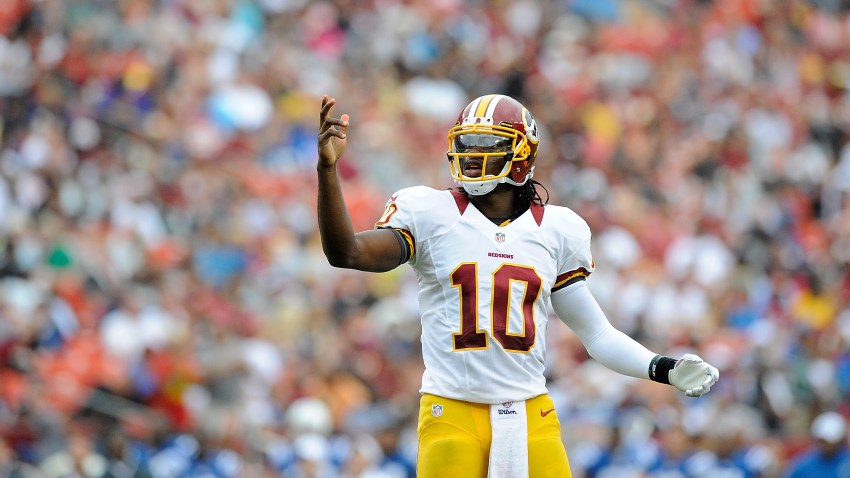 If you're keeping count, then I guess you can put "Robert Griffin III - 1, Andrew Luck - 0" on your giant imaginary scoreboard (if you actually do have a giant scoreboard to do such things, I apologize for patronizing you).
Anyways, the Washington Redskins defeated the Indianapolis Colts 30-17 Saturday in RGIII's D.C. debut.
After a slow first quarter ended scoreless, things picked up in the second as the Redskins and Colts traded scoring drives. Washington went first when running back Alfred Morris capped off an eight-play, 66-yard drive with a two-yard touchdown run. On the ensuing drive, Luck put his poise on display when he marched the Colts down the field on 11 plays and tied the game at 7-7 with a 31-yard floater to T.Y. Hilton for the score.
Not to be outdone, Griffin and the Redskins responded. RGIII finished 5-of-6 on Washington's second scoring drive, his final pass showcasing his athleticism when he corralled a high snap out of the shotgun, rolled to his right and found Santana Moss open for a four-yard touchdown. The touchdown put the Redskins ahead 14-7 at halftime.
Both rookie quarterbacks played into the third quarter and impressed in their longest outings of the preseason; Luck finished 14-of-23 for 151 yards and one touchdown, while RGIII went 11-of-17 for 94 yards and a touchdown. Luck's final QB rating was 94.7 and Griffin's was 93.7. For comparison's sake, it was a push.
Speaking of pushes, Morris made one for a final roster spot. The rookie running back had 14 carries for 107 yards and the aforementioned touchdown in the second quarter. With injuries to Tim Hightower (who returned to game action for the first time since last October Saturday and finished with 28 yards on five carries), Roy Helu, Jr. and Evan Royster, Morris made a statement on the ground.
Here's what happened after Luck and Griffin left the game: Rex Grossman entered the game and got booed for his efforts; Chris Wilson sacked somebody named Chandler Harnish in the end zone for a safety to give the Redskins a 16-7 lead; Josh Morgan caught a 13-yard touchdown pass to make it a 23-7 game, which the Colts cut to 23-10 on a field goal. Grossman, irked by the booing (probably), finished 8-of-8 and threw another touchdown to extend the lead to 30-10, giving us yet another quarterback controversy (not really); the Colts added a rushing touchdown in garbage time to give us the final score.
The Redskins have one more preseason game remaining before the season opener against the New Orleans Saints September 9; they host the Tampa Bay Buccaneers Wednesday.
---
Follow Adam on Twitter @AdamVingan and e-mail your story ideas to adamvingan (at) gmail.com.