Residents in parts of the D.C. area are cleaning up after a line of severe storms swept through the region Thursday night.
The strong storms knocked out power for thousands of people in northern Virginia. As of 8:30 a.m. Friday, 2,253 people were without electricity in northern Virginia. The bulk of the outages were in Fauquier and Fairfax County.
Scattered severe thunderstorms -- some with tornadic capability -- moved into the region Thursday. Storm Team4 Chief Meteorologist Doug Kammerer said Dulles had two inches of rain in the span of just 20 minutes.
Hail the size of golf balls, tennis balls and baseballs was reported with Thursday's storms.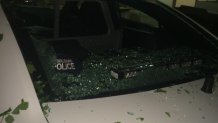 Several police cruisers in Middleburg, Virginia, were damaged by hail. Pictures sent to News4 show shattered windshields and dents along the bodies of the cars.
Flights at Dulles International, Reagan National and Thurgood Marshall Baltimore-Washington International airports experienced significant delays.
The storm has reached DCA airport. Westward bound flights have been delayed for hours. #stormwatch @nbcwashington pic.twitter.com/lcNr2BXOo0 — Pediatric Nurse Dave (@dtateclann) June 17, 2016
Flash flooding remains a concern. A coastal flood advisory is in effect for the D.C. area.
Several tornado warnings were issued through the late afternoon and early evening in Virginia and West Virginia. A tornado may have touched down near Martinsburg, West Virginia, before 4:30 p.m., according to emergency management.
Severe Storms Bring Large Hail, Dark Clouds to Region
The D.C. area is currently under a rain deficit. Last year, at this point in June, D.C. had gotten about 3 inches of rain. As of Wednesday, the area has received less than a half inch of rain this June.
The sun is expected to return just in time for the weekend, with temperatures climbing into the mid-80s.