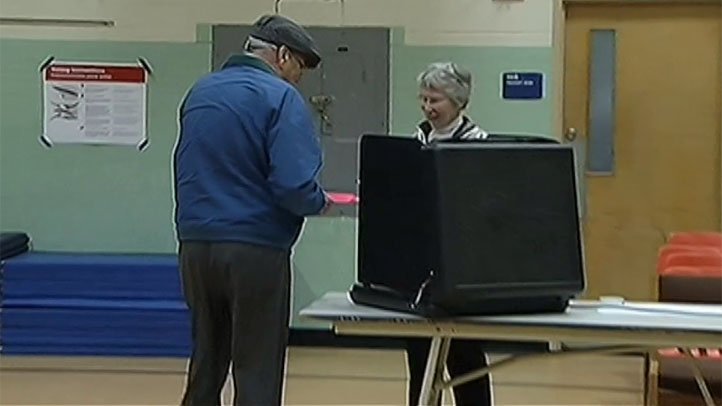 They're both state senators named Mark, and the two candidates for attorney general say they would advocate ethics reform and fight human trafficking.

That's where the similarities end.

Republican Mark Obenshain has a long record as a soldier in the conservative culture wars. Democrat Mark Herring has been a loyal member of the minority in the closely divided Senate, arguing for abortion rights and tighter gun regulations.

They provide Virginia voters a stark choice when they go to the polls Tuesday to hire the person who will essentially be the CEO of Virginia's 400-employee state government law firm and, history has shown, potential governor-in-waiting.

Since advising state agencies doesn't really resonate with voters, candidates typically emphasize the attorney general's role as top cop. It's a strategy Obenshain has followed, pledging to protect Virginians from child predators, elder abusers and sex traffickers. Herring's focus on public safety has been less intense, although he has touted his legislative attempts to curb domestic violence and synthetic drugs.

Obenshain has said little about social issues like abortion and gay rights, prompting Herring to claim the Republican his hiding from his record and obscuring the likelihood that he would pursue the same right-of-center ideological agenda as outgoing GOP Attorney General Ken Cuccinelli, the party's nominee for governor.

"Obenshain has said that he and Cuccinelli are 'two peas in a pod, philosophically,''' Herring said in an email, quoting a statement the Republican made in a 2011 Daily News-Record article. "Obenshain and Cuccinelli have pushed the same extreme ideological agenda, attacking women's health care and pushing a divisive social agenda.''

Cuccinelli strong-armed the State Board of Health into forcing existing abortion clinics to meet the same strict building standards as newly constructed hospitals - a mandate that abortion-rights supporters say will put most clinics out of business. He opposed efforts to protect gays from discrimination and launched a fraud investigation of a University of Virginia climate change researcher with whom he disagrees.

Herring and his supporters say Virginians can expect more of the same, especially on women's issues, if they elect Obenshain. They point to the Republican's support of so-called "personhood'' legislation, which states that life begins at conception and is viewed by critics as an attack on reproductive rights. They also point out that he introduced legislation in 2009 that would have made it a crime for a woman not to report a miscarriage occurring outside the presence of medical professionals.

The personhood bills failed and Obenshain withdrew the miscarriage bill before a committee could consider it. He says the Rockingham County prosecutor asked for the bill after handling the case of a college student who dumped her newborn baby into a trash bin. He yanked it after he determined it was overly broad and efforts failed to narrow it to avoid unintended consequences.

Herring insists that the short-lived proposal is relevant in this election.

"No matter what story Mark Obenshain now tells about the bill, the fact that he would introduce something so outrageous shows how reckless he is when it comes to women's health care,'' Herring said.

Said Obenshain: "Mark Herring knows this attack is false and misleading. He knows there's no way on God's green earth I would impose that kind of burden on a woman who has suffered that misfortune.''

Both senators voted for Virginia's constitutional amendment to ban gay marriage, but Herring says he has changed his mind and now supports "marriage equality.'' Obenshain still opposes same-sex marriage and called his opponent's change of heart "an election year awakening.''

Obenshain also vigorously rejects the suggestion that he and Cuccinelli are ideological clones, saying attorneys general from both parties would be models for him.

"I will draw on the strengths of each but bring my own style,'' he said. "I'm not going to be pigeon-holed.''

Herring has been more the aggressor in the campaign, prompting criticism from Obenshain.

"Virginians are sick and tired of these negative, slash-and-burn, negative 100 percent-of-the-time campaigns,'' he said. "Keeping communities safe and making sure the office buttresses our pro-growth business policies - those are the things that resonate on the campaign trail.''

Polling has suggested that the race may be the closest of the three statewide contests, with Democrats Terry McAuliffe leading Cuccinelli in the governor's race and state Sen. Ralph Northam leading Republican E.W. Jackson for lieutenant governor. In the stretch run, Republican organizations have begun putting most of their resources behind Obenshain in hopes of blocking a possible Democratic sweep.
Copyright AP - Associated Press