A few letters make a big difference.
As the 2018 Winter Olympics approach, some soon-to-be spectators are confusing the host city of Pyeongchang, South Korea, with Pyongyang, North Korea. In one case, a man who planned to go to the South Korean ski town accidentally went to the capital of one of the most repressive countries in the world.
"There's a lot of confusion between the two," Daniel Olomae Ole Sapit said.
In October 2014, Sapit, a Kenyan member of the Maasai tribe, was registered to attend a United Nations conference in Pyeongchang. But a travel agent who bought his ticket unwittingly sent him to Pyongyang instead.
Sapit said he was held in North Korea for more than four hours, forced to pay about $500 for a plane ticket out of the country and ordered to sign a pledge saying he would never return to North Korea without a visa.
"I signed that very fast," he said Wednesday, speaking from Bonn, Germany, where he was attending another conference. The 40-year-old father of three travels around the world to advocate for indigenous groups.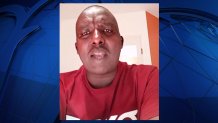 Several visitors to the National Mall whom News4 spoke with said they weren't clear on what country Pyeongchang is in.
Local
Washington, D.C., Maryland and Virginia local news, events and information
"Pyeongchang sounds like somewhere in Asia," one woman said.
"Pyeongchang? Korea. North Korea," a man said.
Ed Hula, the editor-in-chief of the Olympics news website Around the Rings, said he's found that many people are still foggy about whether Pyeongchang is in the prosperous, democratic south or the impoverished, authoritarian north, led by Kim Jong-un.
"It's still a big mystery, where Pyeongchang is," Hula said. He's covered every round of the Olympic Games since 1992.
"Pyeongchang, South Korea -- that means nothing to them," he said. "But I think people don't know what Pyongyang is for the most part either."
[NATL-DC]Welcome to Pyeongchang: A Look Inside the 2018 Olympic Host City
People familiar with both cities have been quick to quip on Twitter.
Sapit, who first told his story to the Wall Street Journal, said he first suspected something was wrong as the plane descended and he failed to see the huge city of Seoul or its neighbors from his window seat. Instead of seeing a modern terminal, he said he saw a "ramshackle" building with a metal roof. People outside the small airport dug trenches and carried heavy loads on their backs.
"By the time we were getting off the plane, I had an eerie feeling that this was not Seoul," he said.
He started asking fellow passengers if they were in South Korea. They told him they were in North Korea.
Sapit approached officials at the airport, and hours of discussions began about what had happened.
"They told me I was in North Korea illegally and had no visa," he said. He was terrified.
Finally, a woman who spoke English better than other officials told him he could pay for his plane ticket, sign the pledge promising to never return illegally and leave.
"He was sent back to Kenya with a $500 fine, and after that, we capitalized the C," said Songjae Lim, a spokesman for the Pyeongchang Olympic organizing committee.
Previously known in English as Pyongchang, officials rebranded the city as PyeongChang, with an "e" and capital "C," to highlight the difference between the locations, though many news agencies, including NBC, do not capitalize the C.
Despite the risk of confusion, interest in travel to Pyeongchang -- known for its ski resorts, Buddhist temples and cuisine -- appears to be way up.
The travel search engine Kayak is seeing 20 times more searches for travel to Pyeongchang during the 2018 Winter Games than the website had for the same period last year, a spokeswoman said earlier this year.
"While we have seen a handful of searches to Pyongyang, North Korea, for those same travel dates, folks are predominantly getting it right," the spokeswoman said.
A U.S. embassy official in Seoul said the chances are low that an American will accidentally fly to the wrong place; it's difficult to get a plane ticket or visa to North Korea.
Some Americans may head there on purpose.
The manager of Koryo Tours, a Beijing company that organizes trips in North Korea, said the company has received a handful of inquiries from Americans who want to travel to the north since they'll be in the south.
A number of Americans have been detained in North Korea. An American was detained on suspicion of "hostile acts" on May 6, taking to four the number of U.S. citizens being held by Kim's regime.
Sapit said he shudders whenever he hears the government has detained someone.
"Anything could have happened to me," he said. He hopes his story will help other people.
Sapit had this advice for anyone planning to go to Pyeongchang but not Pyongyang: "Look at your ticket the way you do an insurance contract. Confirm, confirm, confirm."