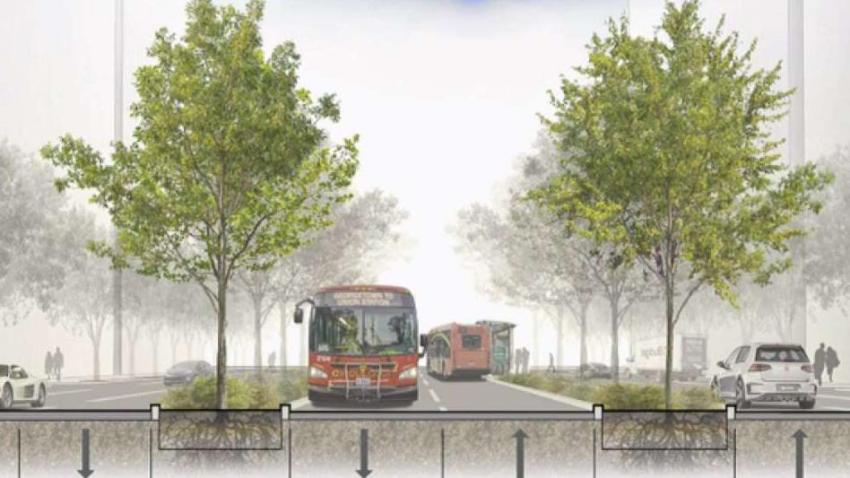 D.C.'s mayor is planning big changes for downtown that could change how commuters get around and where drivers park.
Mayor Muriel Bowser proposed a complete redesign of K Street between 12 and 21st streets.
Nearly 30,000 vehicles use that busy stretch of road every day and an additional 40,000 bus passengers share the road, according to the D.C. Department of Transportation.
If Bowser's plan is approved, buses will have their own dedicated lanes down the middle of K Street.
Transportation officials say the average bus speed along K Street is about 3 to 5 mph. The dedicated bus lanes would increase bus speeds by about 30 percent.
"If my bus is faster I'm good with it," commuter Regina Hoffman said.
"The concept that we're looking at will include bike accessibility and also safer pedestrian intersections along the entire corridor from 12th to 20th," Jeff Marootian, Director of the D.C .Department of Transportation.
The proposal would also eliminate the service roads along K Street and most, if not all, of the metered parking.
"It's going to be tough, but I'm pretty sure I'll just find somewhere else to park and just be walking a lot," driver Richard Chase told News4. "It's going to be rough on people like me who move all over the city."
"We are talking about replacing curb side parking with a more functional use of that space," Marootian said.
Without the service lanes, there will be drop-off and pick-up zones for ride sharing vehicles and taxis, Marootian said.
The project would cost about $120 million and take four years to complete.
The D.C. Council still has to approve the proposal.