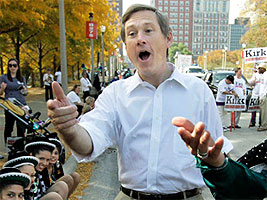 Prince William County school officials are preparing to make cuts as the school system's enrollment boom has continued to outpace the budget.

The Washington Post reports school officials are now looking at possibly cutting the district's full-day kindergarten program. Superintendent Steven Walts once called full-day kindergarten his greatest accomplishment.

School board Chairman Milton Johns says the board is out of options. One proposal would eliminate full-day kindergarten in more than half the county's 57 elementary schools.

School officials say they still believe full-day kindergarten is best for instruction. But they say they are faced with an economic decision without funding to handle high class sizes in the schools.

The Board of County Supervisors is weighing how much to raise the residential tax rate, which could impact the school budget.
Copyright AP - Associated Press