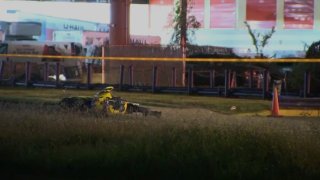 A woman died after she was hit by a motorcycle Tuesday on Central Avenue in Prince George's County.
The crash occurred on Central Avenue between Ritchie Road and Hampton Park Boulevard. County police officers responded at about 9 p.m. They found the woman unresponsive. She was pronounced dead on the scene.
Investigators are working to determine her identity.
According to a preliminary investigation, the pedestrian was crossing Central Avenue and was not in a crosswalk when the motorcyclist hit her, police said.
The motorcyclist remained on the scene and was taken to a hospital for treatment.
A yellow motorcyclist laid on its side in the aftermath.
An investigation is ongoing. Anyone with information is asked to contact police.
Stay with NBC Washington for more details on this developing story.