The death of a grandmother shot inside her home in Prince George's County, Maryland, on New Year's Day was the result of a dispute over a car, police said.
Filomena Vasquez, 56, was shot and killed about 11:30 p.m. Wednesday in the home in the 7400 block of Varnum Street in an unincorporated portion of Hyattsville, police said. She suffered multiple gunshot wounds and was pronounced dead at the scene.
There was an open Bible on the table where she was seated, police said.
Police identified and arrested 23-year-old Sammie Warren of Bowie as a suspect within 72 hours, Prince George's County Police Chief Hank Stawinski said.
Warren bought a car from the victim's 29-year-old son on Christmas Eve but wasn't satisfied with the car's condition and wanted his money back, which the son declined, police said.
Local
Washington, D.C., Maryland and Virginia local news, events and information
Warren sent text messages threatening the victim's son and her family, police said.
Ultimately, he showed up at the family's home late on New Year's Day and opened fire, police said. Several people were inside, including children, police said.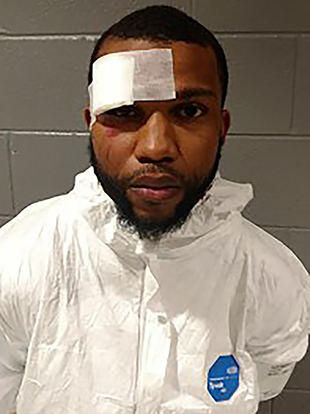 "He just shows up at the residence and just starts arbitrarily firing into the home," Stawinski said.
Investigators found bullet holes in the windows of the house and a black SUV that was towed from the scene.
When police showed up at Warren's home to make the arrest, the suspect armed himself with a handgun, police said. Police approached him with a ballistic shield to make the arrest, and Warren was injured during the apprehension.
Vasquez is remembered as a kind and caring woman.
Two neighbors looked visibly shaken as they left for work the morning after the shooting, but remembered the victim warmly.