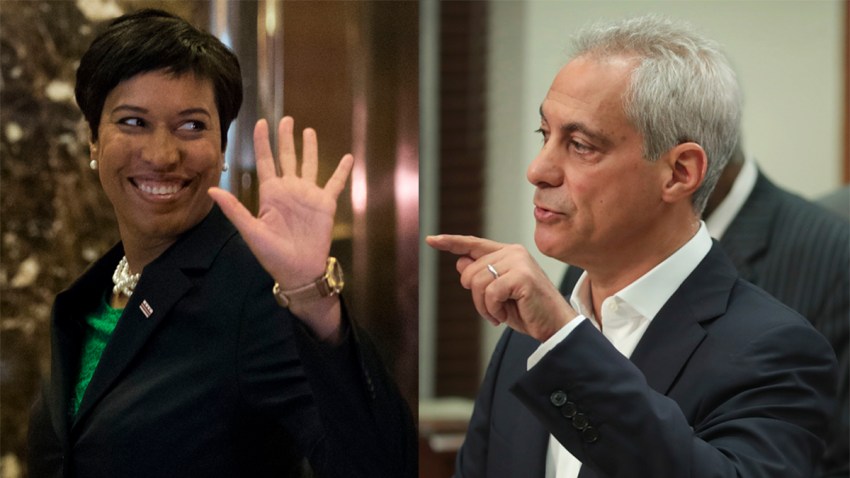 D.C. Mayor Muriel Bowser has placed a major-league bet that the Washington Nationals will win their upcoming five-game series against the Chicago Cubs.
She and Chicago Mayor Rahm Emanuel are each betting that their team will win. Each mayor is wagering famous food and drinks from their city.
WHEN the Nationals win, Emanuel will send Bowser sausages from Publican Quality Meats, prime bone-in ribeye from Harry Carey's Italian Steakhouse and two growlers of Habitual beer from Vice District Brewing Company.
Mayor Bowser wagered -- what else -- half-smokes from Ben's Chili Bowl and DC Brau beer.
"With our all-star lineup and home field advantage, I am confident that the Nationals will come out of this series victorious," Bowser said in a statement. "I was already looking forward to celebrating our win, and now I can also look forward to enjoying some of Chicago's most delicious treats."
In addition to the food wager, the losing mayor will make a donation to Puerto Rico hurricane relief efforts.
The Nationals face off against the Cubs Friday, Saturday, Monday, Tuesday and Thursday.
For the sake of our mayor, we hope your food is better than your team, Chicago.
Author's note: The writer of this article was born in Chicago. The food is amazing. The Cubs are terrible. Mayor Bowser, please share your food winnings with me. Go Nats!