What to Know
The suspected Potomac River Rapist, Giles Daniel Warrick, was arrested Tuesday in South Carolina.
He is accused of killing a woman and raping nine women in D.C. and Maryland in the 1990s.
The cold case devastated victims and vexed investigators for decades.
Police in D.C. and Montgomery County say they have arrested the Potomac River Rapist who killed a D.C. intern and raped nine women over the course of seven years in the 1990s.
The suspect, Giles Daniel Warrick, was arrested Tuesday in South Carolina, police and the FBI announced Thursday.
Warrick, now 60, is suspected of killing 29-year-old Christine Mirzayan in August 1998. She was sexually assaulted and murdered as she walked to her home in Georgetown. Her body was found near Whitehurst Freeway.
Warrick also is believed to have raped seven women in Montgomery County and two women in D.C. between 1991 and 1998. DNA linked those cases to the homicide.
A victim who was attacked in 1991 told News4 she was relieved to finally get news of an arrest.
"This is an answer to so many prayers," the woman, named Kelly, said. "My hope is that this man will finally be brought to justice and that closure can be given to all the people like myself who have been dealing with the uncertainty of this case for so many years."
Local
Washington, D.C., Maryland and Virginia local news, events and information
News4 agreed not to use the victim's last name.
The Potomac River Rapist Incident Map
The Potomac River Rapist terrorized the DC area in the '90s with a series of rapes and a murder.
Source: FBI
Credit: Anisa Holmes/NBC Washington
D.C. Police Chief Peter Newsham called Warrick's arrest "bittersweet."
"I can't begin to imagine what the families have suffered over these 29 years," he said.
Police say they used forensic genealogy techniques to close the case. A DNA test taken by a family member of Warrick led investigators to him. Officials compared DNA collected from the crime scenes to DNA in publicly available databases, Montgomery County Police Chief Marcus Jones said.
One officer was crucial to conducting genealogical research that helped connect the dots: Montgomery County Officer Steven Smugeresky. Also known as Smugs, the police department's cold case unit has repeatedly turned to him to dig through databases, WTOP reported. Smugeresky patrols Silver Spring by bike.
Similar genetic genealogy techniques helped detectives find the suspected Golden State Killer last year.
Warrick looks strikingly similar to a 1998 sketch and a 2011 age-progressed sketch of the suspect.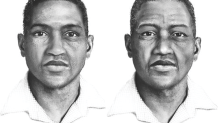 The cold case devastated victims and vexed investigators for decades, though the attacker's DNA was found at many of the crime scenes.
He preyed upon women age 18 to 58. Two of the victims were at home with their young children at the time of the attacks. Another was at work as a housekeeper. Another was headed back from a business trip.
The attacker repeatedly broke into homes, cut the phone lines, covered the victims' heads and raped them.
At the time of the rapes, Warrick worked in landscaping and as a contractor in the D.C. area, sources said.
Former neighbors of Warrick in Frederick County, where he lived until last summer, said they were shocked to learn he is the suspect, saying they never would have thought he could be capable of such crimes.
Investigators are examining unsolved rape cases in the D.C. area to determine whether Warrick may be responsible.
Warrick was in jail in South Carolina on Thursday, awaiting extradition to D.C. He is charged with murder and multiple counts of sexual assault.
Kelly, the woman who was 18 when she was raped in 1991, said the attack changed her life forever. The attacker broke into a house in Germantown, Maryland, where she was babysitting.
Two years ago, she said she looked forward to the day he would be locked up.
"I would look him in the eyes, because he has no control over me anymore," she said.