A child of 2 or 3 years old was found in Northeast D.C. Tuesday morning, hours before police were able to locate her parents.
About 4 p.m. Tuesday, police announced they located the parents of a child they found on the 5300 block of Chillum Place NE, near the Maryland border, about 9:40 a.m.
The child wandered away while her mother slept inside, police said. No charges are expected.
She was wearing a leopard-print coat, pink sweatpants and pink and gray shoes. Police say the girl had her black hair in a ponytail. She has a medium brown complexion and brown eyes. She stands 2 to 3 feet tall.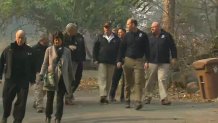 It was not immediately clear how and exactly where police found the child, including if she was found outdoors or indoors. Temperatures were in the 40s early in the day.
Anyone who has information about the little girl is asked to contact D.C. police at 202-576-6768. You can call anonymously at 202-727-9099.
Local
Washington, D.C., Maryland and Virginia local news, events and information
Stay with News4 for more on this developing story.