A woman involved in a car crash in Fredericksburg, Virginia, was pulled from her car, dragged into a ditch and sexually assaulted over a period of two hours, and the assailant remains on the loose, police said.
A young woman was driving east near Kings Highway (Route 3) and Sherwood Forest Farm Road between 2:45 and 3:15 a.m. Monday when an SUV hit her car, the Stafford County Sheriff's Office said.
After the crash, the driver of the SUV pulled the woman out of her car and sexually assaulted her for the next two hours, police said. The victim was able to call for help when the suspect fled east on Kings Highway.
Investigators found a woman's shoe on the side of the road when they took a look at the scene on Tuesday. They also found a shirt they believe belonged to the man.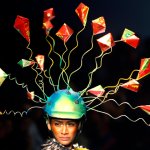 Police described the man as Hispanic, about 30 years old, about 5 feet 8 inches or 5 feet 9 inches tall, weighing 170 to 180 pounds and had black hair and a short black beard.
He was wearing light-colored blue jeans and a sleeveless white tank top under an orange, blue and white plaid long-sleeved shirt. He spoke Spanish and was not fluent in English, police said.
The attacker drove a dark SUV, police said. It may have orange paint marks on the front end or passenger-side front quarter panel.
"We're just really asking everyone to take a moment and stop and think," said M.C. Morris Moncure, spokeman for the Stafford County Sheriff's Office. "Did they see a man matching this description earlier in the evening?"
Anyone who saw anything suspicious Monday between 2:30 and 5 a.m. along Kings Highway between Forest Lane Road and Michael Scott Lane or by the entrance road to the water treatment plant is asked to call police immediately at 540-658-4400.
Anyone wishing to remain anonymous can text "Stafford" plus their information to 274637 (CRIMES), or submit a tip online at www.StaffordCrimeSolvers.com.