Police have arrested the suspect in a fatal stabbing at a Popeyes restaurant in Oxon Hill, Maryland.
Ricoh McClain, 30, was arrested after a 10-day search, Prince George's County Police said early Thursday. He was found at a home on Nova Avenue and was taken into custody without incident.
McClain had been charged in an arrest warrant with first and second-degree murder in the death of 28-year-old Kevin Davis of Oxon Hill, Prince George's County police said.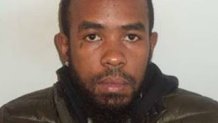 A group of people was already in the line at the restaurant in the 6200 block of Livingston Road when Davis arrived about 7 p.m. on Nov. 4. For 15 minutes, he methodically cut in front of people to get to the front of the line, where he was confronted by McClain, police said.
After a brief argument, Davis and McClain got out of line and exited the restaurant, and McClain immediately stabbed Davis one time, according to police.
Davis died less than an hour later at a hospital.
Many children were among the large dinner time crowd at the restaurant when Davis was killed.
There is no evidence of a longstanding dispute between McClain and Davis, despite a rumor circulating on social media, Chief Hank Stawinski said.
"Deadly violence erupted, again, in 15 seconds. It's shocking," Stawinski said. "It should be sobering to all of us that violence erupted that quickly."
Popeyes resumed selling its chicken sandwich Nov. 3. It was first released in August, and the chain credited popular demand to its supply selling out that month. Marketing around the sandwich has built a frenzy that's causing long lines and waits at the chain's restaurants.
The killing outside one of the restaurants, in turn, caught international media attention. Chief Stawinski said at a press conference Thursday that the narrative that a man was killed over a chicken sandwich belittled the consequences of the crime.
"To ascribe it to something about a chicken sandwich, I think marginalizes the grief," he said.
"Quite frankly, if we got this much attention about every pointless murder, we'd be on the road to a better place both as a community and as a nation," he said.
Stawinski went on to thank officers who worked around the clock to solve the case. He said good detective work led to the arrest of McClain.