U.S. Capitol Police have given the all clear at the Washington Navy Yard after the report of a shooting Thursday morning, triggered vivid memories of a 2013 deadly mass shooting at the naval installation.
D.C. police said a woman called from inside a Navy Yard building to report that she might have heard sounds of gunshots around 7:20 a.m. However, investigators found no sign of a shooting, a shooter or anyone injured.
"We don't believe that it was a malicious hoax or incident like that," D.C. Police Chief Cathy Lanier said during a press conference Thursday morning.
Lanier added that the employee was doing what she was supposed to do.
After receiving the call, authorities converged on the area and searched each building one-by-one.
One of the buildings searched was the Humphreys Building, which was the site of a deadly mass shooting nearly two years ago. The building was formerly known as Building 197.
The naval installation was placed on lockdown and employees were told to shelter in place.
"It was pretty much like the first time. There were lots of people running for the exits, running for shelter, a lot of confusion," said Lt. Commander Scott Williams, who was inside the building when Thursday's incident was reported.
IMAGES: No Shots Fired at the Navy Yard; Police Sweeping Buildings
A number of roads were closed in the area as authorities completed their investigations. A nearby elementary school was also placed on lockdown for a short time.
On Sept. 16, 2013, 12 civilians were killed and four others injured during a mass shooting at Building 197. The gunman, Aaron Alexis, was killed by police. Alexis was a civilian contractor and former Navy reservist who suffered from mental health problems.
It was the second-deadliest rampage on an American military base, after the Fort Hood shootings in Texas in 2009.
Local
Washington, D.C., Maryland and Virginia local news, events and information
The building reopened in February after extensive renovations.
Counselors and chaplains will be provided to any Navy Yard employees who need to speak with someone.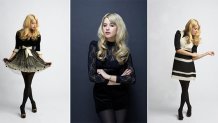 The Navy Yard, in southeast Washington, is the country's oldest naval installation.
IMAGES: No Shots Fired at the Navy Yard; Police Sweeping Buildings