Remember when you earned points for all the books you read and traded them in for free Personal Pan Pizzas?
Children of the '80s and '90s may be happy to hear that Pizza Hut's Book It! program is still around and has a new update for the age of ordering food through apps.
Starting this school year, teachers can give young readers digital Reading Award Certificates that they can redeem for pizzas by dining in at Pizza Hut, getting carryout or getting delivery. Previously, students got paper certificates for free pizzas that only could be redeemed in the restaurants.
"If you can order a Pizza Hut pizza, you can redeem your Book It! certificate," Book It manager Natasha Collins said about the update.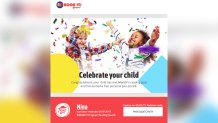 The paper certificates are still an option for teachers too.
News4 spoke with Book It! in honor of National Read a Book Day, Sept. 6.
Local
Washington, D.C., Maryland and Virginia local news, events and information
Created in 1984, Book It! aims to give children a love of reading. An estimated 14 million students in kindergarten through sixth grade participate every year. Pizza Hut calls the program "iconic" and says it has reached 1 in 5 Americans.
And they say Book It! works. More than half of people who participated in the program as children read to their own children every day, compared to 32 percent of the general population, according to a poll Pizza Hut commissioned in 2017.
Book It! had a booth last weekend at the National Book Festival in Washington, D.C. All weekend, fans stopped by to pick up vintage Book It! T-shirts and gush about how much they loved the program, Collins said.
"People came up and said, 'I can't tell you how much Book It! has had an impact on my life. It's the entire reason I love to read today,'" she recalled.
On Twitter, Book It! fans have great jokes about how much they love the free-pizza-for-reading arrangement.
"My sister and I are convinced Pizza Hut Book It pizzas ruined an otherwise healthy relationship with pizza. They are the only acceptable reward. Get a new job? : PIZZA. Get a raise? PIZZA," one man said.