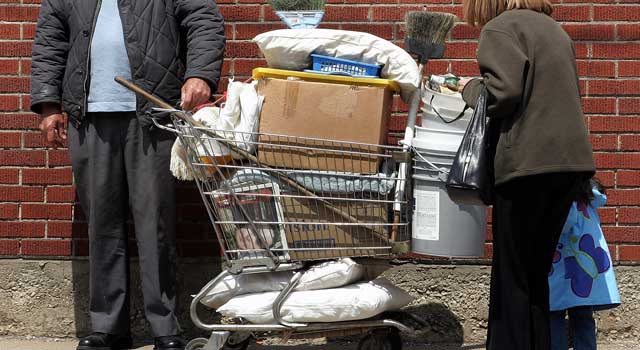 Petworth Commenters Mobilize Against "Poor People" was originally published on City Desk on Sept. 15, 2009, at 12:41 pm
Last year, Central Union Mission attempted to bring its 128-bed homeless shelter to the 3500 block of Georgia Avenue, but was shot down by Ward 1 Councilmember Jim Graham and a group of residents in a rather shameless case of NIMBYism. "Good news!!! Central Union Mission is not moving to Georgia Avenue in Ward One," Graham wrote on his website after he fought off the shelter.
Now, as the Prince of Petworth has relayed in two recent blog posts, the local ANC 1A will be considering a new proposal on Wednesday night. The Mission is trying a more moderate tack for the space, which it owns: retail combined with affordable housing.
Seems like a pretty un-contentious proposal. But if PoP's comments section is any indication, the meeting will be, well, interesting. Some neighborhood residents are rather frank about who they don't want moving in next door. One commenter writes:
"Can someone explain to me why poor people need to get subsidized 'affordable' housing in expensive neighborhoods? There's a ton of affordable housing in DC as is – it's called NE and across the river."
"'Affordable Housing' = artificially concentrated poverty, more crime," another says. "Build your projects in Georgetown, don't dump on our neighborhood just because we're not as rich."
Another commenter suggested that the proposed development is actually a devious bait-and-switch by the Christian charity, still scheming to slip a homeless shelter into Parkview:
"What they are trying to do is very transparent. They want to get the special exception and build the building and then change the use to a shelter for men. Georgia Avenue will be doomed if this happens."
ANC 1A chair Cliff Valenti, who fought the shelter plans last year, is supporting the current proposal. At the meeting tomorrow, he plans to assure the concerned blog commenters that their worries about incoming "projects" and "poor people" are unfounded.
"There's a lot of confusion with people as to what 'affordable housing' means," he told the Washington City Paper over the phone. "Where people get confused is when federal vouchers come in. This proposal says nothing about those vouchers. This is truly housing for people who have jobs, who are working."
Valenti said he also expects reassurance from the Mission that they won't transform the building into a homeless shelter after the proposal is approved.
So, not to fear! There won't be any welfare bums or smelly homeless people ruining the Petworth Metro station with their loitering.
The 3500 block of Georgia Avenue is the emblem of a changing neighborhood: right now, it's nothing but an empty lot down the street from the budding gentrification around the Petworth Metro station. What it becomes may determine the face of the Parkview area in the years to come.
Copyright CITYP - Washington City Paper