"What kind of bullet did you get shot with? The one that stays in your head or one that comes out?"

That's the question Alexandria police officer Peter Laboy says he recently got from his 5-year-old son. The answer, for the record: the kind that stays in.
But Laboy and his family don't dwell on the incident nearly a year ago that left bullet fragments in his brain and send a shockwave through Alexandria and beyond.

For the first time since he was nearly killed, Peter Laboy opened up to News4 about his remarkable survival story and the long path to recovery from the traumatic brain injury he suffered.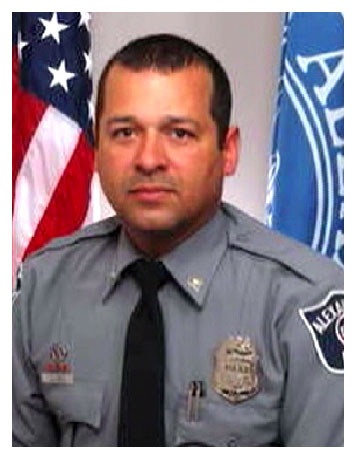 Laboy says he doesn't remember what happened on Feb. 27, 2013.

He was on police motorcycle patrol when he got ready to make a traffic stop on a taxi whose driver had reportedly been behaving strangely.
"I don't remember what happened. I remember responding to the call, but after that, I don't remember being on the ICU," said Laboy.

The officer was shot in the head in front of Lyles Crouch Elementary School in Old Town. As first responders rushed to the scene, police chased the taxi until it crashed in Fairfax County.

Accused gunman Kashif Bashir is scheduled for trial in early June. Prosecutors have asked the couple not to discuss the criminal case ahead of the trial.

Suzanne Laboy says she remembers a sea of blue uniforms as she walked into the emergency room at Medstar Washington Hospital Center. She's a nurse by training.

"I went into nursing mode and you don't think negative; you think positive," she said as she next to her husband in their Alexandria home this week. She says when her husband awakened from anesthesia and could move all his limbs, she had her first moment of encouragement. "He grabbed my hand and kind of stroked the inside of it so I knew that he knew I was right there with him," she said.

Suzanne Laboy's been at her husband's side ever since, as the couple has navigated the path to recovery that comes with traumatic brain injury. Even doctors called his survival a miracle, and he picked up the nickname "Superman."

"Some days are great and some days are extremely frustrating for both of us," explained Suzanne Laboy. "Part of it is just the unknown, what's tomorrow going to bring? But I still had it in my heart he was going to be back to this house... and being a father to the children."

Peter Laboy received six weeks of intensive, in-patient therapy at Medstar National Rehabilitation Hospital, then six more in an outpatient day program. He hit nearly every benchmark for progress early, but discovered he's had to scale back some of his expectations.

"Since I came out of the hospital, I was like, 'When can I go back to work, put me back on the bike [motorcycle], put me back to work,' and they said, 'you are getting better and will continue to get better,' and here I am waiting."

Laboy laughed as he finished the sentence, but he longs to drive again. The prospect of seizures blocks that right now. He doesn't know if he'll ever be able to return to police work.

He contents himself for now with weekly visits to the Alexandria Police Department. "I spend an hour there," he said. "Everybody wants to know how I'm doing, so it feels good."

Because Laboy doesn't remember the shooting, over the past two months he's begun to put his detective skills to use, piecing together precisely what happened to him.
"There is a lot of stuff I don't know," he said. "I'm like, 'Can you explain to me how this happened?'"

He's been visiting those who helped save his life, like the medics, the crew aboard the Park Police helicopter that rushed him to MedStar, and the dispatcher on duty that day.

"He saw me and he was very happy and I said, 'Well, you're going to have to give me a hug because you were there. I'm sorry I scared you to death.'"

Suzanne Laboy has taken time off from work as the couple adjusts to what she called "a new normal." Her blog posts on Caring Bridge and Brainline.org detail the struggles and successes of Peter's recovery.

"You can't see what's going on inside. It's a hard disability to have because he looks great. You look normal and you feel normal but it's a processing thing and the brain continues to heal and we're educating people on that."

Peter describes it this way: "Not all the steps are 100 percent. Some are 80 percent or 90 percent but what happens to that other 10 percent?"

The couple says they remain overwhelmed by the outpouring of community support over the past year. Friends cooked meals for months. The Laboys hang onto the dozens of mementos sent my fellow officers and well-wishers, hundreds of cards, a framed portrait of Peter.

"I was on automatic pilot for a long time," Suzanne said. "The neighborhood, the community and the city, even now people are very kind."

Now the couple hopes to provide inspiration for other struggling with traumatic brain injuries.

"Everybody sees me and says, 'If you made it, other people can make it,'" said Peter.

Suzanne says even if her husband doesn't return to the police department, he will be happy. "I think he's okay with just being here and being able to enjoy the day and see the children grow, spend time with family."

He is eager to get back on the golf course. He'll have shoulder surgery next week to repair an injury received during the shooting incident.

And on the first anniversary, he's decided to celebrate his survival with a cake featuring one candle.
PREVIOUS COVERAGE: