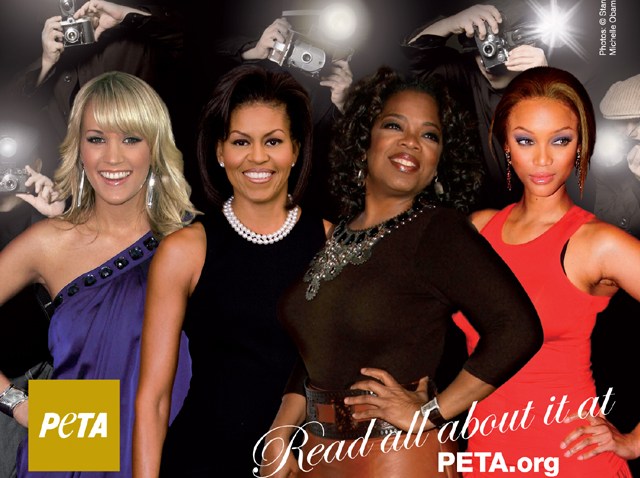 Another ad featuring an Obama without the blessing of the first family or the White House is being pulled.
People for the Ethical Treatment of Animals is pulling an ad campaign that used the likeness of first lady Michelle Obama without her permission, the Associate Press reported.
PETA used photos of Mrs. Obama alongside photos of Oprah Winfrey, Carrie Underwood and Tyra Banks in an anti-fur campaign because the first lady does not wear fur. But they never received authorization from her.
"We haven't asked the White House to fund or promote the campaign, as they can't do such things, but the fact is that Michelle Obama has issued a statement indicating that she doesn't wear fur, and the world should know that in PETA's eyes, that makes her pretty fabulous," read a PETA statement last week.
The ads -- which appeared at Metro stations, on PETA's Web site, in magazines and wrapped around a PETA van driving around D.C. -- were part of the group's fur-free D.C. campaign.
On Monday, Weatherproof Garment Co. said it will take down a Times Square billboard featuring President Barack Obama in one of its coats without his OK.
Now, after appeasing the White House by getting rid of the first lady ads, PETA is urging the White House to take a stand against the Ringling Bros. circus, which last week debuted its newest performing elephant, "Baby Barack."
PETA says circus elephants are abused. Feld Entertainment, which owns the circus, says its elephants are well cared for and using the name Barack is intended as an honor.
We're not clear whether the honor is in naming a Republican symbol after a Democrat or merely having an elephant named after you at all, regardless of your politics.

Copyright AP - Associated Press