D.C. performance artist Sheldon Scott has hulled rice by hand for so long this week that his fingerprints are wearing off. He'll do the grueling work for a few days. His enslaved ancestors on the South Carolina coast did it for years.
The artist will hull and winnow individual grains of rice at the National Portrait Gallery from sunrise to sunset for four days this week. He aims to continue through Saturday night, when he hopes the total weight of the rice will equal his own weight: 204 pounds.
The overall effect of the work is "disquieting," Scott told News4 Wednesday night, after he hulled rice in the downtown D.C. museum for more than 10 hours. The piece, "Portrait, number 1 man (day clean ta sun down)," is modeled on the workdays of his enslaved great-grandfather and others. It is intended to offer an "intimate, more humane look at the past," he said.
Performer and arts patron LL Cool J saw the work in a preview Friday. A photo shows the "NCIS" and "Mama Said Knock You Out" star appearing to quietly consider the piece. Artist Amy Sherald also saw the performance. She's best known for painting Michelle Obama's official portrait.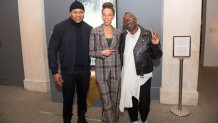 Scott, 43, kneels barefoot in a dark suit as he processes the grain by hand. The sharp hulls of the Carolina Gold heirloom rice have worn down his fingerprints, torn up his nails and even cut his tongue as tried using his mouth to separate the grain from the hard, protective hull.
The total performance from sunrise to sunset Wednesday through Saturday will last more than 42 hours, without any break during each simulated workday.
Local
Washington, D.C., Maryland and Virginia local news, events and information
Once Scott hulls the grains of rice, he places them one by one onto a sculpture meant to evoke the platform on which a casket is placed.
"You're looking at a collection of bodies," Scott said, referencing "undocumented bodies" and the open casket of Emmett Till.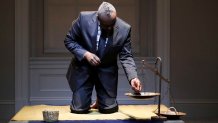 As Scott performs, he said he tries to think of his own family members who were born enslaved and worked on rice plantations in South Carolina. He said he feels weighed down in some moments and light in others.
"At certain points of the day, the ancestors are more present," he said.
If you go to the museum to see the silent performance, don't expect Scott to engage with you or make eye contact. Some visitors have responded with nervous laughter, but that's OK.
"That's not an obligation of the work, to make you feel comfortable," Scott said.
Scott is set to perform the piece for the public from the time the museum opens each day at 11:30 a.m. until sunset at about 6 p.m, through Saturday.
After that, the piece will be on view — albeit without Scott himself — through August 2020. The work is part of the exhibit "The Outwin 2019: American Portraiture Today," which includes various types of portraits by nearly 50 contemporary artists.